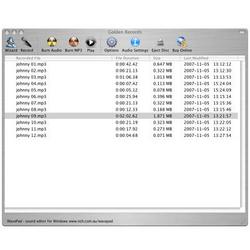 Golden Records has been one of our most successful audio applications for the Windows platform so it was a natural choice for us when deciding what to port next to Mac OS X
Canberra, Australia (PRWEB) October 9, 2007
NCH Swift Sound Software, specialists in audio, business and video software applications, announce the release of Golden Records for Mac OS X.
"Golden Records has been one of our most successful audio applications for the Windows platform so it was a natural choice for us when deciding what to port next to Mac OS X," said Stephanie Lee, marketing manager for the Australian based company. "This application is great for anyone with an extensive vinyl collection who would like to digitize and protect their LPs or for those who want to sample their parents LP collection to make their own music. It also provides a method of converting old cassette tapes to digital audio as well."
The application includes automatic audio restoration tools such as a pop/click reduction, noise reduction, normalization, DC offset correction and many more. A simple step by step Wizard helps the user set up the recording process and it allows the audio files to be saved as wav or Mp3.
"Golden Records for Mac will be followed shortly by a release of Wavepad Audio Editor for Mac and we will continue to expand our range of applications for the Mac OS X platform in the coming year," said Stephanie. "We are also always on the lookout for talented Mac programmers from anywhere in the world to help us port more than 20 different applications."
Since 1993 NCH Swift Sound's development team has released more than 40 Windows, Mac, Linux, Palm and Pocket PC applications which are now leaders in their classes and have been awarded for software excellence. See http://www.nch.com.au or http://www.nchsoftware.com for more information.
###