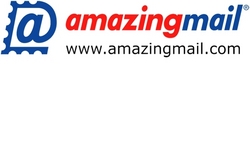 When a cartoon postcard appears in a stack of mail, people are naturally drawn to it. And once the recipient notices that the cartoon is about them, it transforms the postcard into a keepsake, which translates into real results for the advertiser
Scottsdale, AZ (PRWEB) October 10, 2007 -
Direct response postcard provider AmazingMail (http://www.amazingmail.com) recently announced its partnership with Stu Heinecke, the original personalized cartoon direct mail guru with over 25 years of unmatched testing history. "When a cartoon postcard appears in a stack of mail, people are naturally drawn to it. And once the recipient notices that the cartoon is about them, it transforms the postcard into a keepsake, which translates into real results for the advertiser," says Stu Heinecke.
Pairing AmazingMail's superior product with Heinecke's famous brand of direct mail, CartoonLink allows marketers to reach consumers in one of the most unique and effective manners available.
Featuring content backed by 25 years of record-breaking success and millions of dollars worth of testing, the CartoonLink program allows businesses to send out personalized cartoon postcards with Stu Heinecke's creative and strategic direction built into every campaign. The designs feature work by famous cartoonists seen in The New Yorker, The Wall Street Journal and in national syndication. Whether it's one postcard or a thousand, AmazingMail's easy-to-use online process allows entire campaigns to be created, personalized and mailed by the next business day.
Perfect for both consumer and b2b mailings, the personalized cartoon postcards work on a different basis than the majority of promotional mail, which tends to tease recipients into the piece, leaving consumers feeling manipulated. In contrast, the CartoonLink products thrill recipients, which is why they often treat the pieces as keepsakes. And as Heinecke points out, "people keep our postcards on fridge doors or office walls, and secretaries never throw out a cartoon about their boss."
AmazingMail's personalized cartoon postcards make it possible for anyone to grow their business in just a few clicks. "CartoonLink is not just a collection of cartoons," clarifies Heinecke, "It's a unique, easy-to-use system that is driven by 25 years of record-breaking results for some of the biggest direct marketers in the world."
Use personalized cartoon postcards to drive powerful impact, awareness and response. Visit AmazingMail to browse Stu Heinecke designs and get started today.
About AmazingMail:
AmazingMail.com®, Inc. is a privately-held company located in Scottsdale, AZ and is the only internet direct mail solutions provider with a U.S. Patented process that provides you a superior direct mail campaign experience. AmazingMail provides custom one-to-one or one-to-many direct mail marketing campaigns that can enhance any business marketing campaign strategy through unique, amazing direct response postcards. AmazingMail direct mail postcards are created via web-digital-print technology and mailed the next business day by the U.S. Postal Service. Since its establishment in 1998, AmazingMail has provided a service that allows customers to stay competitive in an aggressive market.
###