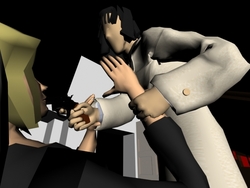 Simi Valley, CA (PRWEB) October 31, 2007
SMI is the leader in technological advancements in 3D animatics for the Motion Picture Industry and real estate development. Providing high quality 3D storyboards, (Previz) and sales and marketing animations for the pre-sale of large real estate projects. SMI has been offering Crime Scene Re-creations to the legal community for years. SMI can create any environment and objects that are relative to the case and apply motion and physics to reconstruct the most detailed human and mechanical movement. With high quality accurate 3D imagery representations of evidence and theory, SMI is poised to be the industry leader in 3D technology.
Seamless Motion Imagery, LLC has over 50 years of combined experience in the Motion Picture and Television Industry. Founded in 2006, SMI provides a platform of high quality 3D animated virtual storytelling to the Motion Picture, Legal and Real Estate industries. Virtual storytelling is fast becoming a vital tool to present information in the business and Feature Film Industries. For more information visit http://www.smi3d.com/ or call 818 309 8640.
###