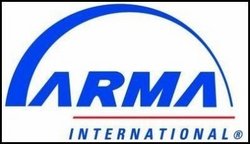 (Vocus) October 8, 2007
ARMA International is pleased to announce the availability of the long-awaited RIM Core Competencies. The release of the publication was announced at a special session during the ARMA International 52nd Annual Conference & Expo in Baltimore, Oct. 7.
The publication details the core competencies that records and information management professionals need to be a success at the various stages in their career. These competencies will enable individuals to identify gaps in their current skills and knowledge so they know where they need more development. They also will be useful to managers and human resources professionals in defining descriptions for existing and new records and information management-related positions.
The Core Competencies create a common bond of understanding and a common language for performance requirements. This document is a valuable tool for anyone working in the information management field.
A download of the publication is available on ARMA International's website at http://www.arma.org/competencies. A print version will be available for purchase in the ARMA International Bookstore) by Nov. 15.
The release of the core competencies is the result of a two-year development process that included the input of a 12-member writing team, 40 RIM subject matter experts who created the draft, 300 subject matter experts who validated the competencies.
About ARMA International
ARMA International (http://www.arma.org) is a not-for-profit professional association and the authority on managing records and information. Formed in 1955, ARMA International is the oldest and largest association for the records and information management profession with a current international membership of more than 10,000. It provides education, publications, and information on the efficient maintenance, retrieval, and preservation of vital information created in public and private organizations in all sectors of the economy. It also publishes the award-winning Information Management Journal.
###