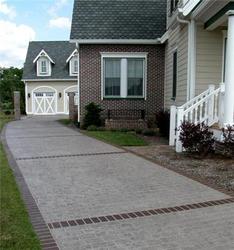 Yucaipa, CA (PRWEB) October 10, 2007
Decorative stamps aren't the only way to put realistic brick, stone or tile patterns into concrete patios, driveways, sidewalks, floors and other flatwork. Property owners can achieve very similar effects with stenciling--and often with less time and effort. The Concrete Network Website has recently launched a new section on everything there is to know about concrete stencils for exterior application including available patterns, step-by-step processes, tips for achieving great results, and more.
With the host of advantages available in using concrete stencils, it's no wonder that their popularity continues to grow. Stencils for concrete come in a variety of popular patterns ranging from running-bond brick to stone, slate and tile. Stenciling can be a fairly fast process to complete. Since all of the work can be done from outside the forms with long-handled tools, crews can pour larger areas at one time, and not have to wait until the concrete sets enough to bear their weight.
As a process that is completed while the concrete is still manageable, cost-effective, disposable stencils can be used, instead of pricier rubber stamps. Once the stencil is in place, and after the desired color is applied to the exposed surface, stencils are removed, leaving behind the gray concrete base creating realistic-looking "mortar joints." For a detailed look at how decorative stencils are applied, take a look at this step-by-step application process.
Established in 1999, The Concrete Network's purpose is to educate consumers, builders, and contractors on popular decorative techniques and applications. These include stamped concrete, stained concrete floors, concrete countertops, polished concrete, and much more. In July 2007 The Concrete Network Website had over 1.3 million visitors researching decorative concrete.
The site excels at connecting buyers with local contractors in their area through its Find-A-Contractor service. The service provides visitors with a list of decorative concrete contractors throughout the U.S. and Canada, and is fully searchable by 23 types of decorative concrete work and 202 regional areas throughout North America.
Article photos courtesy of ArtistiCrete LLC.
###