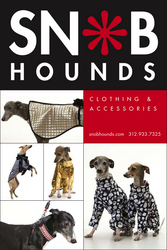 Highly-styled form always follows function, where I'm concerned
Chicago, Illinois (PRWEB) October 10, 2007
SNOB HOUNDS proudly introduces their new, chic and functional canine performance clothing line that will also be seen in an upcoming movie from Universal Studios, "Forgetting Sarah Marshall," directed by Nicholas Stoller, and produced by Judd Apatow, release date is May 2008.
SNOB HOUNDS Essentials is known for exceptional canine couture design, high fashion fabrics, superior construction and fantastic fit. And this season's new line of exclusive "CoCo shirts," "Tattoo T's," safety-reflective raincoats, and unique faux fur coats - among other fashion forward, Fido-friendly styles - do not disappoint. SNOB HOUNDS delivers the utmost in canine clothing performance, function and high fashion with every garment for every size and breed.
SNOB HOUNDS (http://www.SNOBHOUNDS.com) line of exclusive hand-braided, hand-woven leather collars and leads, unique to the pet marketplace, compliments their new, high fashion, high performance canine clothing line debuting at Backer's 41st Annual Pet Industry Trade Show at the Donald E. Stevens Convention Center in Rosemont, Illinois, October 12 to 14, 2007. (Booth #4463)
SNOB HOUNDS Swarovski crystal-trimmed SPEEDRACERS are a high performance Lycra PJ that offer excellent UV protection (a first in canine fashion) and acts like a windbreaker, keeping your dog warmer, dryer, and more comfortable in every climate. SPEEDRACERS also help keep your pup calm during anxious moments such as thunderstorms, trips to the vet, and owner separation.
SNOB HOUNDS practical, interchangeable canine clothing system also includes wet/dry spa coats, sport coats, overcoats, raincoats (both high-fashion and their new, safety-reflective line), four-legged fleece PJ's, the innovative four-legged Lycra SPEEDRACER suits and two-legged fleece and Lycra sweatshirts. Every piece combines high quality with the cutting edge style that has made SNOB HOUNDS famous.
Laura Dion-Jones Casey, SNOB HOUNDS partner and designer, is an elite distance walker who walks 2,700 miles a year, most of them with her two Italian Greyhounds. She developed the multi-functional, trans-seasonal, all weather outdoor/indoor layering system of canine clothing as lifestyle wear to protect her dogs and keep them comfy in any weather condition - from mild to extreme. Laura and her dogs personally road test every single garment.
Each piece that Laura creates is designed first and foremost for functionality. "Highly-styled form always follows function, where I'm concerned," Laura declares. "Think Nike meets Donna Karan - but for canines - and you'll understand the core of Snob Hounds Essentials."
Laura's extensive background in clothing design and fashion, coupled with her continuous field tests, are a testament to Snob Hounds uniqueness. "Snob Hounds dog clothing is real, functional lifestyle wear," Laura continues, "not canine costumes."
SNOB HOUNDS partner, Barbara Karant, brings her artist's eye and creative design background to SNOB HOUNDS in a variety of ways that compliment Laura's. With credentials from RISD and The Art Institute of Chicago, Barbara has taught, published, exhibited and been awarded by some of the nations most prestigious museums, galleries, magazines and institutes. She is also president of Greyhounds Only, an Illinois rescue group.
Both Laura and Barbara are published authors. Laura's new book on motivational fitness "dieting on a dime" and daily walking is, "Commit To Get Fit," and Barbara's title is, "Greyhounds," a compilation of distinctively unique photos and essays due out September 2008.
Each of the Gals are committed to canine rescue and live with, respectively, their two adopted Italian greyhound rescues and three retired racing greyhounds. A portion of sales is donated to support canine rescue groups.
From the dog park to a dinner party, the innovative SNOB HOUNDS Essentials line gives the SNOB in your HOUND something to bark about, so think SNOB HOUNDS when you want your pooch to be the envy of the pack.
For more information contact:
Laura Dion-Jones Casey or Barbara Karant
SNOB HOUNDS
550 N. Kingsbury St. Suite #120
Chicago, IL 60610
312-933-7325
info(at)snobhounds.com
http://www.snobhounds.com
# # #