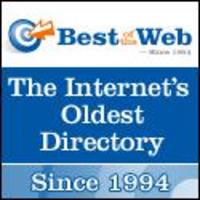 I'm certain that this will be our best promotion ever
Uniondale, NY (PRWEB) October 9, 2007
With the holidays rapidly approaching, now may be the best time ever to submit your site to the Best of the Web Directory. Give your site a boost in visibility for the all-important holiday shopping season, and enter to win some spending cash - a whole lot of spending cash: $10,000.
A comprehensive, searchable directory diligently working to provide the user with a better online experience, Best of the Web continues to provide value to both the user and the webmaster. Since 1994 Best of the Web has served as a destination spotlighting the best that the web has to offer. And for the next two months, they've upped the ante.
For the months of October and November, Best of the Web is offering a 15% discount on all products and services - submissions and sponsorships for both the Web Directory and Blog Directory. Additionally, each time you take advantage of this great offer, you are entered to win the $10,000 cash giveaway. The more you submit, the more chances you have.
"I'm certain that this will be our best promotion ever", says Brian Prince, CEO of Best of the Web. "We like to do these contests a few times a year in an effort to give back to our members. Our valued clients are the backbone of our service, and the discount on our offerings coupled with a chance to win some big money, provides them with an additional incentive to stay involved. Additionally, we expect this promotion to drive new members to the BOTW family of services."
To take advantage of the discount and be entered to win the ten thousand dollar cash giveaway, simply use the following code during the sign up process: WIN10K. Each new submission or sponsorship made using the WIN10K code will enter a user to win, and users can input the code for an unlimited number of submissions or sponsorships during October and November, 2007.
On December 5, 2007 Jeremy Schoemaker of Shoemoney.com fame will announce the winner from the BOTW booth on the show floor at the PubCon Search Conference in Las Vegas, Nevada. The winner does not need to be present at the conference to claim the prize - details will be posted on the company blog, the BOTW Blog.
About Best of the Web
"The Internet's oldest directory," Best of the Web got its start in 1994 by empowering the burgeoning online community to nominate and vote for best-of-class websites in a variety of categories. As the Internet grew in popularity, Best of the Web evolved into a comprehensive directory categorizing content-rich, well designed websites. Today, whether the topic at hand is choosing a college, refinancing a mortgage or planning a party, Best of the Web provides meaningful guidance to many an Internet user. For more information on the Internet's oldest directory, visit botw.org.
###