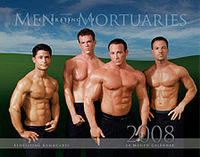 West Hollywood, CA (PRWEB) October 10, 2007
Who: Drop Dead Gorgeous Funeral Directors take off their shirts for Breast Cancer, Everyone expects hot fireman and buffed policemen to show you their bodies for charity, so why not sexy funeral directors? Besides showing more skin this year, the director of the calendar turned the model search into a contest. Men from across the United States applied for the chance to show off their six-pack abs for a 'six feet under' approach to the modeling business.
What: The sexy 2008 Men of Mortuaries Calendar, http://www.menofmortuaries.com
When: The calendar goes on sale October 6, 2007 and will be unveiled on October 8, 2007 in Las Vegas at noon at Booth # 1636
Where: The 2008 calendar will be unveiled at the Las Vegas Convention Center, at the National Funeral Director's Association (NFDA) Show. The NFDA is the ideal place to launch the calendar as it showcases latest hearses to the most elaborate caskets.
The 14 month calendar is available at the Las Vegas Convention Center during the NFDA show and online at menofmortuaries.com. The calendar is a great Halloween treat and will start off any year with a smile. Funeral Homes from across the nation will be throwing signing parties and many are offering free mammogram testing during the launch.
Why: The proceeds of the calendar benefit the KAMM Cares Cancer Foundation in order to raise awareness and funds for women who suffer from breast cancer. KAMMCARES is a foundation dedicated to the care and assistance of those going through treatment for breast cancer. Monies collected provide such necessities as child care costs and groceries, and other living expenses.
The primary goal of KAMMCARES is to give to those struggling with cancer more opportunities in order to improve their lives. http://www.kammcares.org
Media Welcome; Call now for Media Credentials
Contact:
Kenneth McKenzie
Founder
Men of Mortuaries Calendar
1-800-791-4099
Long Beach, California
###