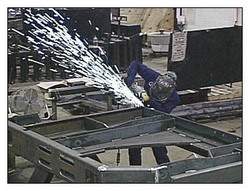 Hot work permits are more and more important as evidenced by the increased number of burned down buildings and facilities, and the potential for injuries
Novi, MI (PRWEB) October 15, 2007
Mastery Technologies, Inc., a leader in workplace health and safety training technology, announces the release of a new safety training course, Hot Work Permits. The interactive training program, developed with video produced by Digital 2000 - a leader in OHSA-compliant, custom safety training videos - is available on Web, Intranet, or CD.
"Where safety and corporate assets are at risk, this course is extremely important," said Kirk Berry, vice president of marketing for Mastery Technologies, Inc. "This is just the kind of course that our industrial and construction customers have been asking for."
In 28 interactions, the course teaches the basics of the hot work permit system, the details of permit variations, and valuable safety precautions, all while reinforcing the need for hot work permits. This training is important for anyone working around or with open flames or sources of heat that could ignite materials in the work area.
"Hot work permits are more and more important as evidenced by the increased number of burned down buildings and facilities, and the potential for injuries," said Don Brown, founder and CEO of Houston-based Digital 2000. "We developed this program to provide an understanding of the rules of hot work permits and how to implement such a program within any organization. Construction companies, in particular, should implement strict hot work permit programs in both new and remodel projects."
Lesson interactions provide opportunities for the worker to apply what he or she has learned. To ensure the promise of mastering all course objectives, each missed question is followed by a review of the specific content. At the end of each lesson's quiz, the learner's attention is focused on areas of difficulty until he or she can successfully demonstrate mastery. This course documents mastery of the following performance objectives:
Follow Basic Hot Work Permit Procedures:

Define 'hot work'
Identify examples of hot work
Recall a hot work permit's maximum time limit
Agree that only designated persons can issue hot work permits
Use Precautions When Performing Work Requiring Hot Work Permits:

Recall the amount of space to clear debris when hot work is performed
Choose the precautions to take when performing hot work in an area with combustible floors
Agree never to perform hot work on combustible walls or ceilings
Select the proper times when a fire watch is required
Abide by the Hot Work Permit System's Regulations

Agree that contractors must follow the employer's hot work policies
Identify hot work permit requirements
Recall the maximum length of time a hot work permit can be issued for new construction
List types of work considered general hot work activities
Explain what to do with a permit once the hot work is complete
Use Hot Work Permits in the Appropriate Locations

Choose areas requiring a hot work permit
Take All Safety Precautions When Working Around Hot Work

Agree to utilize smoke detectors when performing hot work
As in all courses offered by Mastery Technologies, Inc., questions are fully narrated, adding welcome support for learners with reading skill deficits. Narration also assists learners when English is their second language.
Mastery's exclusive Follow-up Review, standard in all Mastery Advantage courses, provides time-delayed reinforcement and review of the learner's newly acquired knowledge. The Follow-up Review enhances the transfer of knowledge to the learner's long-term memory.
About Mastery Technologies, Inc.
Mastery Technologies, Inc., located in Novi, Michigan and Plano, Texas, has been a leader in workplace health and safety training technology since 1986. Mastery has partnered with leading video content providers to co-produce the largest interactive multimedia training library available today to the workplace health, safety and environmental marketplace. Mastery Advantage™ products are sold by Mastery Technologies, its Licensed Content Partners and The Mastery Group. The Mastery Group is comprised of independent licensed distributors with in-depth experience in workplace training and technology.
###