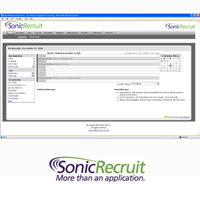 These new tools give SonicRecruit clients a powerful way to manage their quality of hire to achieve 'Best in Class' status.
Chicago, IL (PRWEB) October 10, 2007
Cytiva Software Inc. (CRX:TSX.V), a leading provider of on-demand recruiting software solutions, announced today the upcoming availability of a new set of tools for helping organizations measure and improve their "quality of hire."
Generally available November 2007, this new functionality enables companies to track key metrics that can help them understand and refine their hiring efforts and help them improve the quality of the employees they hire using SonicRecruit.
With the new release, SonicRecruit will be able to track and report on the following metrics:

Percent of "first choice" hires. Companies will be able to track what percentages of the candidates they hire were at the top of their list of desired candidates.
Tenure of new hires. SonicRecruit will track how long new hires stay with the company, and let organizations track reasons for leaving to help address issues regarding retention and success rate of hiring decisions.
Percent of employment offers accepted. SonicRecruit will track what percentage of employment offers were accepted along with what percentage were rejected and why. This allows companies to measure the effectiveness of their offer packages and adjust them for maximum success.
These three metrics will be visually represented in SonicRecruit's Analytics Dashboard, so that clients can not only track traditional metrics like time to hire, cost of hire and process bottlenecks, but they can get a clear representation of vital metrics for measuring just how effective they are at bringing in top talent.
In a recent study underwritten by Cytiva, AberdeenGroup found that "Best in Class" companies had three traits in common:
100% increased "quality of hire"
48% decreased "cost of hire"
54% hired their top choice candidate in more than half their hires
"While Aberdeen Group's recent report on talent acquisition clearly showed that 'Best In Class' organizations measure quality of hire, it also found they often struggle with how to measure it effectively," said Jason Moreau, president and CEO of Cytiva Software. "These new tools give SonicRecruit clients a powerful way to manage their quality of hire to achieve 'Best in Class' status."
About Cytiva Software Inc.
Cytiva Software Inc. (CRX:TSX.V) provides innovative on-demand talent management software and services to mid-sized and Fortune 500 companies. Its flagship talent acquisition product, SonicRecruit, allows corporations to screen applicants, automate recruiting departments, customize corporate career sites and hire great people. This premier applicant tracking system improves recruiting effectiveness, speeding up the hiring process and reducing cost per hire. For more information, visit http://www.sonicrecruit.com.
Contact:
Ian Alexander
mediarelations @ sonicrecruit.com
510-984-1986
The TSX has not reviewed and does not accept responsibility for the accuracy or adequacy of this news release, which has been prepared by management.
Forward-looking Statements: This news release contains forward-looking statements related to the future financial condition and results of operations of Cytiva. These statements are based on current expectations and estimates about the human resources markets in which Cytiva operates and management's beliefs and assumptions regarding these markets. These statements are subject to important risks and uncertainties which are difficult to predict and assumptions which may prove to be inaccurate. Some of the factors which could cause results or events to differ materially from current expectations include but are not limited to: general economic conditions, market or business conditions; changing competitive environment; changing regulatory conditions or requirements; changing technology; and success in implementing productivity initiatives. Some of these factors are largely beyond the control of Cytiva. Should any factor impact Cytiva in an unexpected manner, or should assumptions underlying the forward-looking statements prove incorrect, the actual results or events may differ materially from the results or events predicted. All of the forward-looking statements made in this document are qualified by these cautionary statements, and there can be no assurance that the results or developments anticipated by Cytiva will be realized or, even if substantially realized, that they will have the expected consequences for Cytiva. Readers should not place undue reliance on any forward-looking statements. Further, Cytiva disclaims any intention or obligation to update or revise any forward-looking statements, whether as a result of new information, future events, or any other occurrence.
This press release was distributed through eMediawire by Human Resources Marketer (HR Marketer: http://www.HRmarketer.com) on behalf of the company listed above.
###