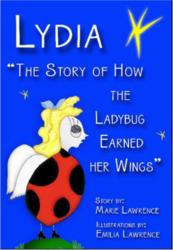 Lydia, The Story of How The Ladybug Earned Her Wings.
Tucson, AZ (PRWEB) October 30, 2007
A new children's book has just been released "Lydia, The Story of How The Ladybug Earned Her Wings," by Marie Lawrence. Lydia is a delightful heroine who will both enchant and enlighten your child as she goes on an amazing journey of self-discovery. Now available in ePub format for iPad and other eBook readers.
"I invite you to come
on a journey
to a mythical kingdom far away
where ladybugs rule the day...
to a wondrous place
of magic and delight
that only with imagination can be seen
and with your heart can be felt...."
And so begins "Lydia, the Story of How the Ladybug Earned her Wings," as she embarks on an enchanting adventure to find out what truly matters the most about ourselves.
Every child will be able to identify with the character of little Lydia as she struggles with the need for approval from others. Yet, she is also a wonderful teacher for children as she shows them the value of believing in oneself even when peers sometimes ridicule or reject them.
The story illustrates that others judgment may not always be accurate, and life is a beautiful gift in and of itself. Most importantly, it teaches children that kindness toward others gives their lives meaning and worth.
Ladybugs or lady beetles as they are also commonly called have a universal appeal for both children and adults. Many seem to find this little bug charming with it's unique color scheme, and even associate them with a gentility of spirit. Children find them fascinating, and they are regarded by gardeners to be beneficial as they consume large numbers of plant destructive insects -- mostly aphids. This fact and their attractive appearance have contributed to the good opinion of them shared by most people. The French call them les betes du bon Dieu or creatures of the good God. The Germans refer to them as Marienkafer or Mary's beetles.
May be that's why Lydia seems to be such a good choice as a main character to exemplify qualities that can help us tackle obstacles, and show us wisdom in the way that we choose to live our lives. No wonder these bugs are so popular. It seems that people are always shopping for ladybug items whether it be tea sets, plant containers, dinner plates, gifts, toys or jewelry.
In fact many people are now doing ladybug themed Birthday parties for their children. Ladybug cupcakes, favors, games and gifts are items that are widely searched for on the Internet. Emmy Lou Harris from Tucson, Arizona recently put it this way: "I love ladybugs so much that I told my mom that I wanted a ladybug Birthday party. It was so much fun. We made ladybug crafts, had ladybug party favors, played ladybug games, ate ladybug Birthday cake, read ladybug poems and as a gift, I received a book about Lydia, the ladybug- my favorite ladybug of all. It's the best book I ever read. I learned a lot from reading it too. I love Lydia because she's got spirit, and helps me to believe in myself. One of my favorite parts in the book (Lydia, The Story of How The Ladybug Earned Her Wings) goes like this,
She would dance in bliss and sweet mirth
by the pond in the deep forest,
and rejoice in her birth.
She had made up her mind that there was much beauty to see,
many good deeds to do,
and that her life had real worth."
"Lydia, The Story of How The Ladybug Earned Her Wings" by Marie Lawrence is available in ePub format for iPad and other eBook readers.