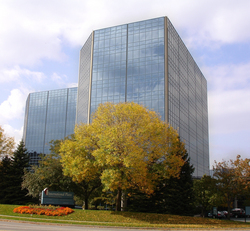 Up until now, management of our projects had been handled by our Chicago office. Opening the new office in the Twin Cities makes us more readily available to current and future clients based in the region. We're a global geotechnical contractor offering leading construction services and technology – and now we can offer them at a truly local level
Bloomington, MN (Vocus) October 9, 2007
Hayward Baker, Inc., North America's leading geotechnical contractor, announces the opening of a new sales, project management and engineering services office in the Twin Cities. The office is located in Bloomington, near the Minneapolis-St. Paul International Airport and the Mall of America.
According to Steve Scherer, senior vice president of Hayward Baker's Midwest Region, the opening of the Twin Cities office illustrates the continuing growth of the company's business activities in the Upper Midwest. In recent years, Hayward Baker has performed a variety of high-profile projects in the area, such as densification of the ground soil prior to construction of the Hubert H. Humphrey Terminal parking garage at the Minneapolis-St. Paul International Airport, and a similar project for the IKEA furniture store in Bloomington. Hayward Baker also provided jet grouting, soil stabilization and underpinning procedures for the Minneapolis Institute of Art expansion.
Other Hayward Baker projects in the region include performing earth retention and underpinning services for St. Cloud Hospital and the University of Minnesota's new molecular biology building.
"We've been active in the Upper Midwest area for many years," Scherer noted. "Up until now, management of our projects had been handled by our Chicago office. Opening the new office in the Twin Cities makes us more readily available to current and future clients based in the region. We're a global geotechnical contractor offering leading construction services and technology – and now we can offer them at a truly local level," he emphasized.
Among the area general contractors Hayward Baker has worked with are Adolfson & Peterson, Krause Anderson, Knutson Construction Services, Lunda Construction, M. A. Mortenson, and Ryan Companies of Minnesota. Hayward Baker also works closely with two area geotechnical consulting firms, American Engineering & Testing (AET) and Braun Intertec.
While the Twin Cities office offers the same range of services and support provided by Hayward Baker nationally, Scherer reported that a significant focus of activity will be on the company's cost-effective Vibro Piers™ foundation system, its highly effective earth retention services (sheeting, bracing and tiebacks), as well as providing soil stabilization and grouting services.
The new Twin Cities office will be headed by Ryan Benson. Benson joined Hayward Baker after serving as a land development manager for Pulte Homes of Minnesota. Benson also held project engineering positions with Braun Intertec Corporation of Bloomington, Minn. and with Ground Engineering Consultants in Denver, Colo. He holds a B.S. degree in civil engineering from North Dakota State University.
Commenting on his new responsibilities at Hayward Baker, Benson said, "This position utilizes my background and experience in geotechnical engineering and specialty contracting, while also giving me the opportunity to work in a business development and client support role. It's a nice blend of duties that ties in perfectly with my technical and customer care interests."
The Twin Cities office of Hayward Baker is located at International Plaza, 7900 International Drive in Bloomington, Minn. For more information on the services offered by the Twin Cities office, contact Ryan Benson at 952-851-5500. For a complete listing of Hayward Baker regional offices, visit http://www.haywardbaker.com/locations.
About Hayward Baker, Inc.
Hayward Baker, Inc. is North America's largest geotechnical contractor. Ranked by ENR magazine as the #1 Foundation Contractor, Hayward Baker is the industry leader in applying ground modification technologies to site improvement and remedial work, with a 60-year record of experience. A wide range of technologies are employed in providing foundation support and rehabilitation services, as well as settlement control, structural support, site improvement, soil and slope stabilization, underpinning, excavation shoring, earth retention, seismic stabilization, and ground water control. Every service provided by Hayward Baker is designed to be the most effective, cost-efficient solution, based on a proven track record of performance in the field. Services are provided through a network of more than 20 company-owned offices and equipment yards across the continent. Web site address: http://www.haywardbaker.com.
Hayward Baker, Inc. is part of the Keller Group of companies, a multinational organization providing geotechnical construction services throughout the world. Web site address: http://www.keller-ge.co.uk.
Contact
Steve Scherer
Hayward Baker, Inc.
(630) 339-4315
###