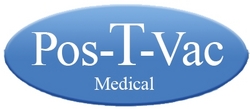 an erection pump is a non-chemical and non-invasive treatment for erectile dysfunction
Salt Lake City, UT (PRWEB) October 11, 2007
Top-selling medical supply company Vitality Medical is now selling Pos-T-Vac vacuum erection devices. The vacuum erection devices are available now at VitalityMedical.com with shipping as fast as one to two days.
Erection Pumps or ED Pumps are a safe alternative to other types of impotence treatments such as penile injections or prosthetic implants. While those impotence treatments can be effective, they can also have painful side effects. Medication is effective for some patients, but may interfere with other patients' medications. This is particularly true when a patient with erectile dysfunction is taking heart or blood pressure medication.
"I believe vacuum therapy is an excellent first-line treatment option. It is probably the safest treatment for ED and can produce an erection in nearly all men," says Dr. Troy Burns, Medical Director of Propartnersmd in Overland Park, KS. He adds, "I have specifically recommended the Pos-T-Vac vacuum therapy system to my patients for my whole career."
Dr. Burns is not the only person recommending vacuum erection devices. This impotence treatment is FDA-approved and recommended by the American Urological Association.
Vacuum erection devices are generally divided into two categories: battery and manual. Manual vacuum erection devices use a hand pump to create the necessary suction action. In contrast, Battery vacuum erection devices use a small motor to create suction. Both are effective in treating erectile dysfunction.
Vitality Medical has sold vacuum erection devices from other major manufacturers such as Encore and Osbon. "We believe the addition of the Pos-T-Vac line will provide our customers with even more choices when it comes to impotence treatment," said company president and founder, Brad Packer.
Vitality Medical is now selling the Pos-T-Vac BOS2000-2 and BOS2000-3 battery-operated models as well as the IVP 600 and IVP 700 manual erection systems. Prices range from $140.00 to $460.00. All products are shipped in discreet packaging.
About Vitality Medical:
Vitality Medical was founded in January 2000 with the purpose of providing the consumer quality discount health and medical products. We sell to a variety of customers including hospitals, hospices, doctor's offices and the general public. With 9,000 and growing, our products range from raised toilet seats to wound dressings.
About Pos-T-Vac:
Pos-T-Vac is a leader in the non-surgical treatment of erectile dysfunction with vacuum therapy. It has been manufacturing and marketing systems for the side treatment of erectile dysfunction and impotence for 15 years.
###