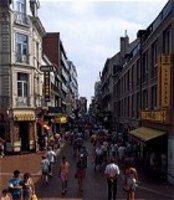 we were able to achieve a city-wide network, accomplish many applications that we initially thought would not be possible and we are still planning for more.
Calabasas, Calif. (PRWEB) October 11, 2007
Strix Systems, the leader in high-performance wireless mesh networking, today announced that Citymesh bvba, a Strix premier partner founded by Mitch De Geest, Frederik Demets, Peter-Jan Pertry, Sven de Brabander and Freek Pauwels, specializing in the design and deployment of large-scale wireless mesh networks, has deployed Strix's Access/One® Network Outdoor Systems (OWS) for Belgium's first city-wide wireless mesh network.
Blankenberge, Belgium, is an international European refuge known for its long sandy beach lined with cafes, bars, restaurants, shops and the casino situated in the cities center encompassing approximately 17.41 km². The city has a total population of over 20,000 full time residents and over 150,000 visitors during the summer months.
The deployment took less than 2 months and covers the city center, promenade, harbor, surrounding camp areas and provides wireless internet access to all tourists, residents and businesses. The success of the pilot project resulted in the decision to put this network permanently in place to guarantee the enduring availability over the entire city. Even more, similar networks are under construction in other cities, municipalities and private domains across Europe. Tim Coucke recently joined as sales director supporting the further growth of the company.
Citymesh was recently recognized by the IWT (Institute for innovation via Science and Technique) for its innovative contributions to the Flemish region. The city-wide wireless network is the vision of Fientje Moerman, the Vice-Minister President of the Flemish Government, and Flemish Minister for Economy, Enterprise, Science, Innovation and Foreign Trade. The city-wide network is also part of a larger strategy to make timely any-time access to the Internet and business resources available over the entire Flemish region.
In the first phase of the deployment, Strix Access/One OWS products provide city-wide coverage connecting any standard Wi-Fi capable laptops, dual mode cellular/GSM/Wi-Fi phones, PDAs or other devices without the need for extra hardware or complicated installation. This enables the user to gain 24/7 access from anywhere in and around the city for such purposes as business critical, municipal and public safety-related applications including a new wireless tracking service called "project kidwatch", which traces the current location of children at the beach and around the city. Another example includes mobile and stationary advertising on video LCD-TV displays placed in the city whereby the content is managed through the mesh network.
"With Strix Access/One products we immediately realized there were no network or performance limitations," said Mitch De Geest, CEO of Citymesh, "we were able to achieve a city-wide network, accomplish many applications that we initially thought would not be possible and we are still planning for more."
The second phase of the network will interconnect other cities to the Blankenberge mesh network and enable video surveillance, telephony, audio distribution, parking control, security and sensor networks etc., taking full advantage of Strix Access/One product line including the Indoor Wireless System for indoor/outdoor business applications and the high-power Edge Wireless System (EWS) for residential users requiring greater reach and higher performance.
"Citymesh's Blankenberge deployment is an excellent example for Europe, with a great deal of customer opportunity and the innovative thinking that drives users to their network," said Matt Holdrege, Director of International Strategic Sales for Strix Systems. "Strix Access/One performance and reliability makes a wide range of consumer, commercial and government applications possible and Citymesh is at the forefront of those applications."
Citymesh (http://www.citymesh.be)
Blankenberge (http://www.trabel.com/blankenberge/blankenberge-voorpagina.htm)
Blankenberge-Online (http://www.blankenberge-online.be/)
RSS
http://www.strixsystems.com/publicrss.rss
About Citymesh:
Citymesh is a telecommunications firm specializing in designing and deploying large-scale wireless mesh networks. Citymesh bvba was founded in May 2006 by Mitch De Geest, Frederik Demets, Peter-Jan Pertry, Sven de Brabander and Freek Pauwels with the intention of delivering city communication networks based on the multi-radio Wi-Fi Mesh technology.
About Strix OWS:
The Strix Access/One OWS modular mesh products deliver the largest capacity (up to six radios and 768 users per node, three to six times the norm), highest throughput (five times the norm at 35 Mbps), and best scalability (users can add more radio boards or new technologies). An independent wireless mesh test, sponsored by Light Reading and completed in June 2006, found Strix's OWS 2400-30 delivers the best throughput and capacity and the greatest scalability for voice applications and mobility/roaming. Strix networks scale to 10 or more wireless hops with near-zero throughput loss and latency, enabling customers to deliver real-time applications with a minimum of wired connections for a given area, which reduces CapEx and OpEx.
About Strix Systems:
Strix Systems is the worldwide Leader in Wireless Mesh Networking, both in market share (according to Heavy Reading and Infonetics) and technology (Iometrix). Strix's Access/One products are the industry's only modular (chassis-based) mesh systems, delivering the largest capacity, highest throughput and best scalability. This new generation of products provides the broadband mobility and reach to support voice, video, and data applications. Sold globally by a network of first-class distributors and integrators, Access/One solutions have been deployed in hundreds of networks worldwide, outdoor and indoor, for service providers, metros, public safety, government, energy, manufacturing, transportation, hospitality, education, enterprises, and residential markets. For Strix latest case video case study on public safety, municipal networks and railway networks please go to: http://www.strixsystems.com/video/missioncritical.html.
Strix Systems products and services are available worldwide through a premium partner ecosystem of distributors, service providers, resellers and systems integrators.
Argentina • Australia • Austria • Belgium • Brazil • Bulgaria • Canada • Chile • China • Colombia • Costa Rica • Croatia • CyprusCzech Republic • Denmark • Dubai, UAE • Finland • France • Germany • Greece • Hong Kong • Hungary • India • Indonesia • Ireland • Israel • Italy • Japan • Korea • Luxembourg • Malaysia • Mexico • The Netherlands • New Zealand • Norway • Peru • Philippines • Poland • PortugalPuerto Rico • Romania • Russia • Saudi Arabia • Scotland • Singapore • Slovakia • Slovenia • South Africa • Spain • Sweden • Switzerland • TaiwanThailand • Turkey • Ukraine • United Kingdom • United States • Venezuela • Vietnam • Zimbabwe
For more information about Strix Systems, please visit http://www.strixsystems.com.
NOTE: Strix Systems and Access/One Network are trademarks or registered trademarks, in the United States and certain other countries, of Strix Systems. Additional company and product names may be trademarks or registered trademarks of the individual companies and are respectfully acknowledged.
Safe Harbor Statement:
This document contains forward-looking statements within the meaning of Section 27A of the Securities Act of 1933, as amended, and Section 21E of the Securities Exchange Act of 1934, as amended. Such statements are subject to risks and uncertainties that could cause actual results to vary materially from those projected in the forward-looking statements. The Company may experience significant fluctuations in future operating results due to a number of economic, competitive, and other factors, including, among other things, our reliance on third-party manufacturers and suppliers, government agency budgetary and political constraints, new or increased competition, changes in market demand, and the performance or reliability of our products. These factors and others could cause operating results to vary significantly from those in prior periods, and those projected in forward-looking statements. Additional information with respect to these and other factors, which could materially affect the company and its operations, are included in certain forms the Company has filed with the Securities and Exchange Commission.
###