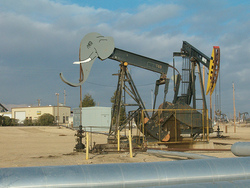 Kingwood, TX (PRWEB) October 12, 2007
Hidalgo Exploration & Production Co., Inc announces its plan to offer Oil Exploration Safaris to prospective investors/thrill seekers in time for this year's tax write-off season. The company can provide prospective "Wildcatters" with an exceptional oil and gas prospect, 24 hour a day access to the rig, mud-logging trailer and logging truck while we drill their wildcat well in Central Texas.
"Wildcatters" can see drilling cutting as they come up from the earth and look at them under a microscope and see the oil and gas bubbling out of them. They will be in on the decisions of whether to set pipe and complete the well and which zones to perforate and test. They will have the option to drill additional wells on the prospect should Hidalgo hit a barn-burner as well as receive the line-share of the production income until the well has totally paid back all its costs. Then they could have an additional income stream that could last for the rest of their lives.
Hidalgo Partners will guide the "Wildcatters" for a front end cost of around $100,000 that secures the lease, drilling rig contract, geology, and consulting while they drill your prospect. Should they hit the big one, it will cost about that to complete it as a producing well. With oil selling for about $80 a barrel a 100 barrel a day well would pay for itself in a few weeks. Hidalgo will be hunting virgin serpentine plugs (ancient volcanoes) that have a history of producing prolific amounts of oil & gas from shallow depths. A number of discoveries in the area have had initial production rates in excess of 1000 Barrels a day and the company believes there are still fields to be found with the potential of half to a million barrels.
This well will only take about 3 days to drill and a week to complete as a producer.
Please email Hidalgo Exploration & Production Co., Inc for all the details at Dean Philpot, Hidalgo Exploration & Production Co., Inc , 2806 Elm Grove Ct., Kingwood, TX 77339.
###