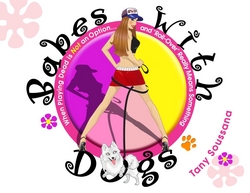 From being a lucky dog, to being a lucky bitch, aren't we really just one big family with sometimes more poo than we bargained for anyway? At the end of the day, it all barks out loud one thing that truly matters… 'got a dog?'
Los Angeles, CA (PRWEB) October 10, 2007
Diva dog fashionistas beware! There's a new player hitting it out of the dog park, if not putting on some serious tail... a fur-ious frenzy unfolding, an epidemic hitting the streets, and the numbers are climbing! It's called "Babes With DogsTM," the new Animated Lipstick book and brand created by Hollywood publicist-turned-author, Tany Soussana. Now adding more groove to its style, "Babes With Dogs" was picked up for worldwide management representation by music and film's legendary business wizard (the Rolling Stones very own brass ring-leader), Ron Schneider, of CLB, Inc., it was announced today.
"When I first came across Tany Soussana's animated book, 'Babes With Dogs,' my instant reaction was this brand was going to be explosive and well beyond the book and animation industries, but well into multi-media cultural and social platforms -- from fashion to film to music, etc. - that would take any serious diva dog fashionista, or those interested in their bow-wow world, to the next level," states Schneider. "This brand is about to redefine the day-in-a-life of any merchandiser who ever recognized the value of this whole 'women with dogs' craze. They are literally everywhere -- women and their dogs -- and this vibrant new market and scene has just begun to scratch the surface! The market here is virtually infinite, cutting some serious tail and leg as 'Babes With Dogs' is primed to cut its own serious mainstream growth, well beyond niche into the hearts and bosoms of women everywhere (including male interest and voyeur curiosity). While this brand is just catching on, its popularity and growing demand is already being favorably felt among multi-media markets!"
It's no wonder a recent cover story in Business Week titled, "The Pet Economy," featured a dog decked out in crown jewels (imagine a bulldog flashing her tiara) -- aka, dressed to the K9's! Anyone say "boom-dog?" From a dog's new pampered world and growth industry, with a price tag ranking at $41 billion per year (expected to reach $52 billion in the next two years), one thing is certain: the female owners contributing to their "bada-bling" are not too far behind.
Another champion wowed by "Babes With Dogs" is Todd Stevens, the founder and executive producer of the online video program for authors, Expanded Books: "The title says it all, 'Babes With Dogs'... got game! Tany Soussana and her fun new book certainly cater to the dog fashionistas, while also putting on some sweet tail for the rest of us folks... and I'm a man drawn to this 'women and their dogs' craze. We get it, love it, and the world will too." Stevens is also a former producer of the hit television show, "Friends."
Soussana's "Babes With Dogs" (Random Lipstick Publishing) has not only garnered instant momentum upon release this summer, but in true "tell-tail" wagging chic, the new IT brand has added more heat to its hot diggity dog fashion statement as this very pink and delicious book is now also available in L.A.'s most posh boutiques -- Raw Style (Santa Monica), Diesel Books (Malibu), and Pets of Bel Air (where Britney Spears recently found and fell in love with her infamous Yorkie puppy, London).
As a new brand that instantly drives the appeal and glamour of Hollywood, "Babes With Dogs" favorably caters to a market hungry for products that deliver a direct connection to the world of hot Hollywood babes, supermodels, fashion, and celebrities with their dogs.
The brand was originally created by Soussana, a top Hollywood publicist -- and a true "babe with a dog" in her own right -- after noticing the overwhelming curiosity and appeal aroused by her stories, book and subsequent brand development. "Everyone loves to enter into the sexy, saucy and sassy world of Hollywood babes with dogs," says Soussana. "And of course it doesn't stop there as this book appeals to all women in touch with their inner-babe who have lovingly answered the call of canine nature."
From the froth and frolic of the modern day woman, to a walk in the dog park of another kind, "Babes With Dogs" takes an indelible plunge into the day-to-day absurdity of what happens when -- apart from a man going south -- only a good dog will do. Speaking of the author's muse, "My loving dog, Yoda, an American Eskimo ahead of his time who is the light of my life and the inspiration behind this book."
If you are a "Sex and the City" fan, or grew up with "Charlie Brown" (with a personal affinity for Snoopy), plus happen to relate to the Liz Winston quote, "I think, therefore I'm single," then this fun illustrated book could be your new happy place. From Betty Crockers to hip-hoppers, from chick-lit enthusiasts to the haute couture, from the very feminine to feminists, and from corporate elites to shabby chics... "Babes With Dogs" is for everyone (no faux-paws about it)!
Schneider adds: "'Babes With Dogs' is a global business and marketing goldmine. We are currently in talks with licensing partners of interest and will be making those formal announcements at a later date. This unique brand taps into a voyeuristic market hungry for the celebrity-connection and of course everything that is women and their dogs. 'Babes With Dogs' provides licensing opportunities that will keep a dog-friendly cross-section of industries well fed… from women's apparel and stationary goods, to gifts and novelties, and wireless-online content, among other ancillary interests. This is truly a buyer's market."
"BWD power" is gaining staggering momentum and doing it at top-dog speed. Now take paws to pick up today's hot new female humor book, "Babes With Dogs: When Playing Dead is Not an Option and 'Roll-Over' Really Means Something" -- a latest movement, if not the "tail" of choice, among chick-lit fans particularly keen on doing it doggy style. "Babes With Dogs" is all that…

The "warm-fuzzy" call of canine nature that beckons a woman's inner-babe.
Day-in-a-life antics of a new, unleashed babedom that puts on the dog with the right blend of naughty and nice.
An exclusive club, also recognized as Doggywood, takes shape among actual "babes with dogs" (the landscape and the scene), that reaches down and gives the licking that comes unconditionally.
Now, the come-hither power of canine options in new-found light and joy: BWD!
Each page is a hoot and a howl -- Lap of Luxury, Doggy Style, My Doggone Reading, Lucky Bitch, Slinging Crap-ola, Lifetime of Lickings -- and more! Are the hearts and bosoms of women everywhere increasingly playing home and refuge for dogs today? Just ask the dogs who now not only have more reason to wag their tails, but are doing it in true "I got a babe" style! Not one to mince bones (or words, read the book), this irrepressible babes-canine mania is ahead of its time. Hot doggy nirvana, anyone? "Babes With Dogs" could be the next best thing to women bringing out their "Inner Dog-a-logue." Consider it a central station, the nucleus, for dishing a great dog-a-loguing confab among women with dogs! As Soussana suggests, "From being a lucky dog, to being a lucky bitch, aren't we really just one big family with sometimes more poo than we bargained for anyway? At the end of the day, it all barks out loud one thing that truly matters… 'got a dog?'"
"Babes With Dogs" -- the book about everything to do with talk, focus, and women relating to life with Fido -- shoots straight from the dog bowl. Apart from its novelty look, while not attempting to convince a massive intellect, it does a hidden one. Nominated for most "Lucky Bitch" animated book in a comedic role… "Babes With Dogs," bar none, takes the poo-poo out of women strutting doggy style! Make way for a new breed of book, a bodacious illustrated theme, and a diehard maternal attitude that clearly touts, "Come to Mama!"
ISBN-10: 0979635101
ISBN-13: 978-0979635106
Babes with Dogs:
When Playing Dead is Not an Option... and "Roll-Over" Really Means Something
by Tany Soussana
(Random Lipstick Publishing)
Contact:
info@randomlipstick.com
213-745-0105
###