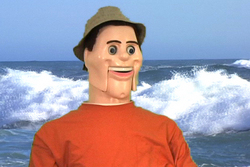 explains Greg Roche, Founder of Safety Simon.
West Hartford, CT (PRWEB) October 10, 2007
With the arrival of cooler weather, many parents and caretakers assume water hazards are behind them. But this overlooks the life-threatening year-round dangers of boating, backyard spas, hotel pools, docks, lakes and bodies of water along the path between home and school. More than 1,500 American kids and teens die each year from drowning accidents. Drowning is a silent death that happens in seconds, rarely accompanied by splashing, yelling or other signs of distress.
The Safety Simon Water Safety DVD is an enjoyable and educational DVD carefully designed to teach kids about water safety using language and visuals they understand. The instructional DVD, over 25 minutes in length, follows the four-foot tall walking, talking robot named Safety Simon through various water hazards - from lakes and waterfalls, to pools and bridges - explaining the dangers and reinforcing water safety rules because, "a good safety pal always obeys the rules."
Designed for kids age three to seven, the Safety Simon Water Safety DVD is now available to the general public, educators, libraries and childcare providers at http://www.safetysimon.com. Non-profit childcare centers are eligible for free copies of the DVD through the "Safety Simon Buddy System" charitable program. I want to give children easy access to these valuable lessons," explains Greg Roche, Founder of Safety Simon. "If Safety Simon saves just one precious life, my work has been worthwhile."
For more information, or to watch a clip of the Safety Simon Water Safety DVD, please visit http://www.safetysimon.com.
About Safety Simon:
The Safety Simon Company (http://www.safetysimon.com) promotes child safety through various on-site shows, booklets and multimedia. The organization's live shows, featuring Safety Simon, the four-foot walking, talking robot, provides interactive safety lessons to local public and private schools, daycare centers, toy stores, and community safety events throughout Connecticut and southern New England. The company's new DVD, launched October 2007, expands these benefits to households across the nation.
###