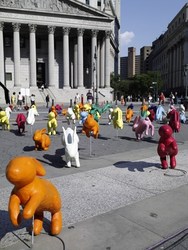 (PRWEB) October 12, 2007
Sony has launched its new colour.like.no.other website, designed to showcase the capabilities of its award winning BRAVIA TV range. The site, colourlikenoother.com, was designed by Dare Digital. It contains exclusive interviews, BRAVIA-themed interactive features and makes use of an intuitive navigation system. The site launch coincides with the release of the third BRAVIA advert, 'Play-Doh', which follows on from the much loved 'Balls' and 'Paint' -- also showcased on the site.
BRAVIA 'Play Doh' has a lead role on the new site, which will feature never before seen interviews and 'behind the scenes' footage with the Passion Pictures team - the advert's creators. Passion Picture's Darren Walsh, of Angry Kid fame, talks through the challenges of creating 'Play-Doh', which features 200 multi-coloured animated bunnies and is the first BRAVIA advert to use stop frame animation. As an added bonus, Walsh shows visitors how to make their very own 'Play-Doh' bunny.
Navigation is easy, thanks to Dare's system. At its core is the user-controlled main menu, made up of rotating segments -- making it simple to explore everything the site has to offer. To keep visitors entertained while waiting for the site to launch, little known facts relating to the world of colour flash up on the screen. Did you know that carrots used to be purple or that restaurants use red, orange and yellow in their colour scheme as it makes customers hungry?
The site is highly interactive, with visitors able to visit a BRAVIA soundstage and Colourwall, as well as a download area which contains a variety of desktop images and wallpapers from all three ads in the BRAVIA advert series. The BRAVIA soundstage demonstrates the audio capabilities of BRAVIA TV, allowing visitors to have fun throwing a ball around a virtual room, listening to it bounce off the walls and floor, while the BRAVIA Colourwall has over 16 million different colours and lets people pick their favourite. They can then make the colour their own, by uploading a photo directly on to the wall itself.
James Kennedy, Sony Europe said of the new website: "Sony fans have high expectations, and we wanted to make this site a fun, informative and interactive experience. The BRAVIA range leads the way in its use of sound and colour and the features on the site give users a taste of the BRAVIA TV experience."
Notes to Editor
About BRAVIA:
BRAVIA is synonymous with outstanding quality of colour and clarity of detail: a picture so good it enhances the viewing experience, no matter what you like to watch.
BRAVIA digital televisions offer exquisite design in a huge range of models, colours and sizes, from 20" - 70". You can choose from a number of advanced technologies, including SXRDTM and various unique picture enhancement features such as the renowned BRAVIA ENGINE.
All new BRAVIA televisions are HD ready and some BRAVIA series are even able to display the superior 1080p High Definition picture in amazing 6,2 megapixel detail. BRAVIA televisions have up to three HDMITM connections for enhanced High Definition connectivity. You can connect any HD device to your BRAVIA with just one type of cable (HDMITM) and with no loss of HD picture or sound quality.
BRAVIA is committed to helping prevent climate change and the brand has won considerable acclaim for its energy-saving televisions.
All Sony digital televisions feature a built-in digital terrestrial tuner and some even offer integrated HDTV tuners for the next generation of terrestrial free-to-air broadcasts in stunning High Definition.
About Sony:
Sony manufactures audio, video, communications and information technology products for the global consumer and professional markets. With its music, pictures, game and online businesses, Sony is uniquely positioned to be one of the World´s Leading Consumer Brands. Sony recorded consolidated annual sales of EUR 54.96 billion (yen 7,475 billion) for the fiscal year ended March 31, 2006 and it employs approximately 158,500 people worldwide.
In Europe, Sony recorded consolidated annual sales of EUR 12.61 billion (yen 1,715 billion) for the fiscal year ended March 31, 2006, based on an average market exchange rate for the same period of yen 136 to the EUR. Sony Europe, headquartered at the Sony Center am Potsdamer Platz in Berlin, is responsible for the company's European electronics business and registered consolidated sales of EUR 8.22 billion (yen 1,118 billion) for the fiscal year ended March 31, 2006.
For more information on Sony Europe, please visit sony-europe.com and sony-europe.com/presscenter
Contact:
immediate future Ltd
T: 0845 408 2031
immediatefuture.co.uk/
Dare Digital:
Dare is a leading digital marketing agency, based in London. The agency was appointed by Sony in May of this year to develop pan-European interactive campaigns and is behind the new website for BRAVIA. Conceived as an ever-changing celebration of colour, the site will be guest-edited on a quarterly basis by people from different walks of life, each giving their individual take on colour. First up, it's the guys from Passion Pictures (the company behind the new Play-Doh commercial). The site also gives users the opportunity to own their own colour on the unique Colourwall. Dare, which was Campaign magazine's Agency of the Year for three consecutive years between 2003 and 2005, also counts Vodafone, Sony Ericsson, Barclays and ITV among its core clients.
Facts about production of the new Sony BRAVIA ad
3 week shoot, Foley Square NYC (located between the Financial District, Little Italy and TriBeCa)
6 x cameras
2.5 tonnes of modelling material used on set
189 2ft rabbits
150 1ft cubes
10ft x 20ft purple wave
30ft giant rabbit
40 animators
40 animators working on the same scene has never been attempted before
40 animators working for 4 hours generated 4 seconds of footage
The 60 second advertisement will be constructed of approximately 100,000 stills
About Paint & Balls
'BALLS'

Under the search term 'bouncy balls San Francisco Sony', Google yields 274,000 results
Number of visitors to BRAVIA site on Sony.com increased by 50%
Online advert received 30m hits and 3m users downloaded it
3,000 unique blogs posted mentioning 'Balls' commercial
'PAINT'

On day of release download rate on the servers was peaking at over 600mb per second due to requested content
In the first week of the campaign 1 million visits to bravia-advert.com were recorded
In general consumers were navigating towards the ad themselves, a significant achievement in an era when the industry is consistently warned that consumers are opting out
###