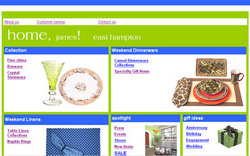 We are one of the very few today who still manufacture in Europe, adhering to the strict quality levels of yesteryear
East Hampton, NY (PRWEB) October 11, 2007
The home, James! Collection, a company specializing in unique designs for casual table linens and other specialty gift items, announces the launch of their new website with an enhanced set of offerings. Expanding the business from two retail outlets, in New York and Dallas, respectively, the new site offers a complete set of household goods for the table, from china to casual dinnerware, napkin rings and crystal.
The items available on the site are uniquely designed for home, James! customers and some are only available on the site itself. The designs are based on the decorative styles of past historical periods and updated with patterns from contemporary color palettes, made from durable materials that are able to withstand modern usage while retaining a classic appearance. All of the site's offerings, from casual table linens to fine china, coordinate with matching items also available on the site, and there are multiple options for each dinnerware pattern.
"We are one of the very few today who still manufacture in Europe, adhering to the strict quality levels of yesteryear," said business co-founder and co-owner Josef Schreick, a merchandising expert with over twenty years of retail experience.
That attention to detail and manufacturing quality is reflected in the small, personal nature of the site. The owners are in touch constantly with customers at their retail shops and have built an excellent customer service reputation through this constant interaction.
Co-founder and co-owner David Cipperman, an accomplished architect and designer, added, "Our table linens are almost unmatched in terms of their magnificent array of colors, quality of workmanship and generous size." The site's opening coincides with the fall season, in preparation for holiday shopping. Gift items from dessert dishes to mugs and napkin rings are available on the site.
More information and a full array of product offerings is available at the new site, homeJamesEastHampton.com.
About the home, James! Collection:
The home, James! Collection was founded twenty years ago in East Hampton, New York. Two retail stores, one in East Hampton and one in Dallas, Texas, carry the brand's classic product lines, updated for contemporary use. The company attunes itself to an aristocracy of time, place, and event, drawing inspiration from some of the most special moments in history and some of the most extraordinary places on Earth. Design references and inspirations include Captain Cook's exploration of the South Pacific, the court of Louis XIV, and the beaches of South Fork, Long Island.
###