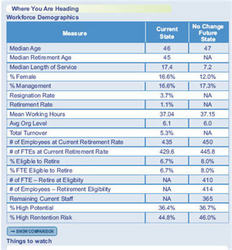 San Francisco, CA (PRWEB) October 11, 2007
Every organization is heading towards a future influenced by current trends and practices, but many lack the framework or tools to effectively analyze their impact. Aruspex, a strategic workforce planning software and consulting firm, has answered that need with its new No Change Future State™ (NCFS) reports.
Created with an organization's data and trends, NCFS uses Aruspex's CAPTure software to generate profiles by applying internal workforce trends, identifying key issues and checking against labor force projections for demographic red flags. Personalized reports show the eventual result of current turnover trends, and provide different scenarios that examine the impact of likely baby boomer retirements.
NCFS is part of CAPTure, Aruspexs leading strategic workforce planning software, which helps HR executives swiftly and intelligently prepare for changing conditions by ensuring that the proper workforce is in place to execute business strategy. Rather than simple forecasting, CAPTure enables customers to weigh the impact of demographics, business strategies, and competitors' behavior - and take action steps to avert them.
This press release was distributed through eMediawire by Human Resources Marketer (HR Marketer: http://www.HRmarketer.com) on behalf of the company listed above.
###