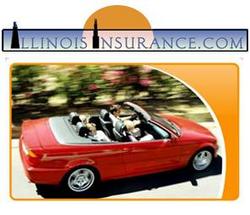 Many drivers that need an SR-22 or who have not been able to obtain auto insurance due to their less than perfect driving record often find themselves in situations where they need proof of insurance immediately. It is for this reason that we implemented new technologies on our website to give customers instant, downloadable access to their policy and ID cards
Chicago, IL (PRWEB) October 10, 2007
IllinoisInsurance.com (http://www.illinoisinsurance.com) announces that it will now offer low cost Illinois auto insurance for drivers with less than perfect driving records, such as tickets, accidents, suspensions, international driver's licenses, and those who need SR-22 insurance in Illinois.
Using advanced auto insurance rating software technology, IllinoisInsurance.com rates online applicants against fifteen different insurance companies to find the most favorable matches for the customer.
"This is fantastic news for those with a history of tickets and accidents or who need an SR-22. In Illinois, having multiple tickets and accidents can make it difficult for drivers to find affordable Illinois car insurance. Our goal was to make it simple for Illinois drivers to find affordable rates with suited companies quickly and without stress," says David Robbins, founder and CEO of IllinoisInsurance.com.
Robbins says that the company is able to keep costs down to drivers by developing relationships with competitive insurance companies that are willing to compete for the auto insurance business of this demographic.
IllinoisInsurance.com offers additional discounts for:

Proof of prior insurance
Multiple cars
Perfect driving records
In addition to the new line of insurance, the company has also implemented a feature that allows customers the ability to instantly download auto insurance policy and insurance I.D. cards immediately upon purchase.
"Many drivers that need an SR-22 or who have not been able to obtain auto insurance due to their less than perfect driving record often find themselves in situations where they need proof of insurance immediately. It is for this reason that we implemented new technologies on our website to give customers instant, downloadable access to their policy and ID cards," explains Robbins.
About IllinoisInsurance.com: IllinoisInsurance.com (http://www.illinoisinsurance.com) specializes in affordable Illinois car insurance for Illinois and the greater Chicago area. Illinois Insurance offers affordable rates for all drivers, regardless of age or less than perfect driving records. The company offers convenient pay plans and instant access to auto ID cards and auto insurance policy.
###