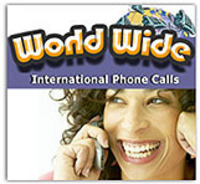 Pincity has been providing the phone card service for 7 years and wants to reward our valuable loyal customers on this 7 years anniversary milestone! Pincity sincere appreciate all the supporting from every customer in the past times
City of Industry, CA (PRWEB) October 11, 2007
From now to October 31, 2007, customer who purchase iTalk phone card service will have a chance to win a free iPhone or 500 free minutes as long as they sign up or recharge an existing iTalk phone card accounts with the promotional code "2007iPhone'. View more details about this promotion on [Phone Card Promotion Page. Moreover, from now to Dec 20th, 2007, anyone who signed up to Pincity's newsletter at the phone card newsletter page will have a chance to win the second free iPhone.
The first free iPhone winner will be announced on 10/29/07 while the second one will be announced on 12/20/2007.
"Pincity has been providing the phone card service for 7 years and wants to reward our valuable loyal customers on this 7 years anniversary milestone! Pincity sincere appreciate all the supporting from every customer in the past times," says Spencer Yang, the General Manager of Pincity.com.
Since 2000, Pincity.com has been providing high quality communications solutions and Pincity iTalk phone card is one of the best virtual pre-paid calling service solutions available on the market today. The same phone card can be used in over 25 international countries beside the United States and be accessed with toll-free numbers in foreign countries such as Australia, Canada, China, Hong Kong, Taiwan, U.K., and more.
More impressively, Pincity's phone card service provides the no pin, speed dialing ability for user to quickly dial to their destination in just 3 simple key strikes. This feature removes the cumbersome need to remember actual pin number for your account and the long phone number you are dialing
In a summary, Pincity.com's prepaid phone card offers the following benefits:

Extreme low international and domestic rates for calls
No monthly fee or hidden fees
Convenient access from over 1,000 U.S. local access numbers
25+ international toll-free access numbers and 800+ local access numbers in 38 countries
Create your own easy to remember, customized PIN number with all prepaid phone card choices
Qtalk pin-less calling and Qdial destination quick dial memory enable you to get connected by only entering 3 digits
Real-time online calling and billing history
Live customer service representatives
Rewards Program: earn points each time customers recharge toward valuable prizes
About Pincity.com
Headquartered in California, U.S.A., Pincity.com is owned and operated by Personal Information Network, Inc. Since 2000, Pincity.com has been providing cost-effective, high quality communications services including iTalk phone card, iBuffet unlimited plan and iCalling monthly plan to thousands of business users, international travelers, and individual consumers worldwide.
# # #