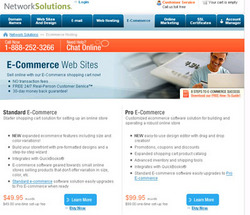 Is Your Site Holiday-Ready? 7 Steps to Improve Your Online Holiday Sales
Herndon, VA (PRWEB) October 11, 2007
As consumers grow increasingly more comfortable with shopping online, the winter holiday season is when online retailers traditionally see the biggest upswing in their business. In order for online retailers to capitalize during the busiest online shopping season of the year, they need to make sure their Ecommerce sites are in top shape and that they've planned a tailored search engine optimization (SEO) strategy. In a new white paper, "Is Your Site Holiday-Ready? 7 Steps to Improve Your Online Holiday Sales," Network Solutions explains the importance of ensuring Ecommerce sites are updated and tailored to shoppers, as well as the importance of developing an SEO strategy.
Jeff Zimmerman, Vice President, Product Marketing with Network Solutions explains, "There are so many ways that online retailers can really utilize the Internet to drive more shoppers to their stores, and we want to ensure that it is easy to do. From simple tweaks to your site, to implementing a complete online marketing campaign, online retailers must be cognizant as to how to stick out from their competitors--and thus have the most profitable holiday season possible!"
Network Solutions, which offers an extensive line of Search Engine Optimization and Ecommerce solutions for online businesses, uses this white paper to present guidelines and other helpful suggestions for improving online stores. Some of these tips include adding holiday flair to online store design, analyzing your Website from a gift givers perspective, improving navigation to make seasonal products and information easy to find, prominently displaying the SSL certificate, engaging in various forms of online advertising and Search Engine Optimization to stand out from your competitors, and more.
Download the white paper to learn more about how online merchants can prepare for the holidays. For more information about Network Solutions, their Ecommerce solutions and Search Engine Optimization services, please visit NetworkSolutions.com.
About Network Solutions:
Network Solutions, a leading provider of Web solutions and the pioneer of the domain name registration service, offers a full range of Web-related services including Web hosting, Web design, e-commerce software, search engine marketing, SSL certificates, e-mail services and domain name registration. Network Solutions draws on 28 years of experience making it simple and affordable for customers to build and manage an online presence through a one-stop Web solutions provider.
###