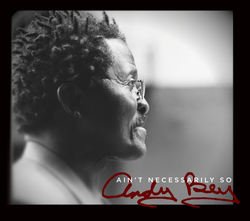 Andy and the Bey Sisters
New York, NY (PRWEB) October 11, 2007
Since Andy Bey's return to recording in 1996, after an absence of more than two decades, he has emerged as a preeminent interpreter of the Great American Songbook and one of jazz's vocal masters. "Ain't Necessarily So," scheduled for release on October 30 by 12th Street Records, is his newest CD, the fifth in the indispensable series of recordings he has created with producer Herb Jordan, and his first since 2004. The disc was recorded at Birdland in May 1997 at Bey's first headlining engagement at a major New York nightclub. His performance received glowing reviews at the time and, as a listening to the CD attests, has lost none of its musical power.
The CD's eight selections are mostly ballads -- including "I Let a Song Go Out of My Heart," "Someone to Watch Over Me," and the strikingly recast "It Ain't Necessarily So" -- but Bey swings out on "All the Things You Are" and the scat-filled "Brother, Can You Spare a Dime?" Bassist Peter Washington and drummer Kenny Washington provide empathic support.
Producer Jordan explains the singular attraction of the music made at Birdland during that week: "All the elements of 'Ballads Blues & Bey' [1996] -- the first blush, overdub free, unfettered exploration -- were present in an atmosphere charged by the energy of his trio, the presence of an audience, and the propulsive lift of long-deferred acclaim. It all came together at Birdland."
"Ain't Necessarily So" is the first album on Jordan's 12th Street label to be issued through a licensing arrangement with the innovative Nashville company Thirty Tigers. A very different treatment by Bey of "Brother, Can You Spare a Dime?" can be heard on Thirty Tigers' three-disc "Song of America," a 50-song set that traces the history of the United States through its folk and popular music traditions. Conceived by former U.S. Attorney General Janet Reno, "Song of America" also features performances by John Mellencamp, the Black Crowes, Devendra Banhart, Bettye LaVette, Janis Ian, Martha Wainwright, the Blind Boys of Alabama, and numerous others.
"Ballads Blues & Bey," the singer's initial recording with Jordan, appeared in 1996 on the Evidence label. The subsequent three appeared with Jordan's 12th Street Records imprint: 1998's "Shades of Bey" through an arrangement with Evidence, 2001's "Tuesdays in Chinatown" through a licensing deal with N-Coded Music, and 2004's Grammy-nominated "American Song" through one with Savoy Jazz. Prior to his current series of albums, Bey hadn't released a recording as leader since his very first, "Experience and Judgment" (Atlantic, 1974).
Born Andrew Wideman Bey, Jr. in Newark in 1939, the youngest of nine children, Bey was a piano prodigy who was playing boogie-woogie in Newark clubs at age 5. By the time he was 12, he was something of a child celebrity in the New York City area, appearing at the Apollo Theater on a bill with Louis Jordan and being featured on the weekly television variety show "Startime Kids."
As Andrew Wideman, he recorded four sides in 1952 for Jubilee Records; a few years later he recorded Bobby Troup's "The Meaning of the Blues" for Decca, with backing by Sy Oliver's orchestra.
In 1956, he and his sisters Salome and Geraldine formed Andy and the Bey Sisters. By the end of that decade, the vocal trio's high-energy mix of jazz, pop, and gospel had created a sensation overseas. They made their recording debut in England and in 1961 cut "Andy and the Bey Sisters" with producer Chet Atkins in Nashville. The trio made two more albums -- "Now! Hear!" (1964) and "'Round Midnight" (1965) -- before disbanding in 1966.
During the late 1960s and early '70s, Bey was featured as a vocalist on albums by jazz instrumentalists such as Gary Bartz and Stanley Clarke. He later spent several years working as a vocal jazz teacher in Austria, imparting to his students some of what he'd learned during years of private study and practice, particularly in how integrating head and chest tones helped him develop his present four-octave range, as well as how to move between belting and softer, breathier tones.
Andy Bey continues to work on expanding and perfecting his already highly developed approach to singing, which is so brilliantly captured on "Ain't Necessarily So." As he prepares for the release of the new CD later this month and his Joe's Pub appearance on October 25 -- coinciding with his 68th birthday, on October 28 -- he observes: "I'm just trying to let things be what they want to be. The main thing I'm trying to keep intact is the spirit. If it's cool, it'll take you through." •
See Andy Bey:
10/25 Joe's Pub, New York City (with David Wong, bass; Vito Lesczak, drums); 10/30 J&R Records in-store appearance (lunchtime), 23 Park Row, New York City; 11/10 Kennedy Center Jazz Club, Washington, DC; 11/30 Montgomery College, Philadelphia.
# # #