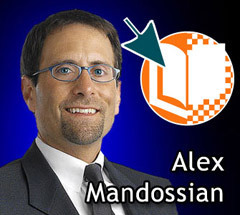 Ask and You Shall Receive: How to Use Your Market to Take Your Teleseminar Training to the Next Level for Big Bucks
Novato, CA (PRWEB) October 11, 2007
Alex Mandossian, one of the top Internet direct marketers in America, has just released a new article on his web site. The article, "Ask and You Shall Receive: How to Use Your Market to Take Your Teleseminar Training to the Next Level for Big Bucks" is available for immediate download at http://www.AlexMandossian.com.
In this article Mandossian reveals three steps to capture more profits, faster, better and with less human effort, even if you're on a bootstrapped marketing budget.
"If you are tired of playing 'pin-the-tail-on-the-donkey' with your marketing dollars and are looking for a system that eliminates guesswork, you need to embrace the 'just ask' philosophy of Teleseminar marketing," explains Mandossian. "By asking your market what they want, you can tailor your information to them, and then ask them to pay for it."
Mandossian explains how to ask markets what they want and then use that information in a sales letter or selling strategy and also addresses repurposing Teleseminar content as an additional moneymaking strategy.
Future articles about Teleseminars address tips for entrepreneurs, small business owners and other to harness the power of Teleseminars, including:

How to make more an hour than elite professional athletes or Fortune 500 CEOs
The beauty of Teleseminars and the "one-on-many" approach to sales and marketing intimacy.
How Teleseminars can increase your conversion rates (turn prospects into buyers)
Why Teleseminars are so profitable - and what you can do to make the most money with the least amount of time.
How to repurpose Teleseminars to increase profits
How one business person made almost $15,000 in one hour (and how you can do it too).
To access the complete article series, visit http://www.AlexMandossian.com.
Alex Mandossian has consulted Dale Carnegie Training, NYU, Agora Publishing, Mutuals.com, Pinnacle Care, Strategic Coach, Trim Spa as well as thought leaders such as Jack Canfield, Vic Conant, Mark Victor Hansen, Les Brown and many others. He has trained over 14,000 Teleseminar students and claims that he can train practically any Entrepreneurial-CEO to transform their annual income into a monthly income in less than 3 years after applying his principle-centered Teleseminar strategies.
More information can be found at http://www.AlexMandossian.com , including the opportunity to download his free ebook, 5 Secrets To Making Change Now. To learn more about Teleseminars, including the opportunity to sign up for a special preview call that lays out Alex's entire system, can be found at http://www.TeleseminarSecrets.com.
# # #