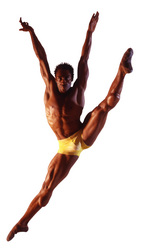 There's nothing more appealing than learning from the industry's hottest choreographers and teachers right from your living room -- and now even your desktop
New York, NY (PRWEB) October 12, 2007
Tezoro Productions, LLC. announces the pre-purchasing extravaganza for its newest instructional DVD series with dance icon Desmond Richardson. Three Desmond Richardson DVDs, entitled Dance For Kids Ages 8 and Up, Contemporary Dance & Improvisation Volume I and Contemporary Dance & Improvisation Volume II, will be available for pre-purchase beginning October 13th at the New Jersey United Dance Merchants of America (NJ UDMA) show.
Known as LIVE at Broadway Dance Center, the Tezoro Productions video series, produced by Tony Nominee Michèle Assaf, will feature future projects under the Tezoro Productions name, beginning with Desmond Richardson, Co-Director of Complexions Contemporary Ballet, a former principal dancer of Alvin Ailey and the American Ballet Theatre, and this year's Dance Magazine Award recipient.
Attendees of the NJ UDMA show, who pre-purchase the Desmond Richardson DVDs, will receive a free Desmond Richardson poster and free domestic shipping on the DVDs. They will have the exciting chance to meet Desmond Richardson in person and receive a special photo opportunity with him, compliments of Michèle Assaf, Mark Andrew, the Resident Photographer for National Museum of Dance, and Desmond. The photographer will be at the Tezoro Booth (704) on Sunday, October 14th from 12 to 3 p.m.
Also premiered at the Tezoro Productions booth are the new, innovative and highly touted Teacher's Choice DVD Sets. These sets are specifically grouped by category, such as the Choreography Collection, the Total Technique Collection, Creative Movement for Kids, and the Dancer's Care Collection.
Tezoro Productions additionally announces the first time opportunity for pre-purchase of a new DVD, The Care and Feeding of a Dancer with Toni Branner, M.A., well-known nutritionist, exercise physiologist, professional speaker, wellness consultant, and author.
Tezoro Productions has delivered quality Broadway Dance Center-based "Classes in a Box" for 5 years. "There's nothing more appealing than learning from the industry's hottest choreographers and teachers right from your living room -- and now even your desktop," says Michèle Assaf, Producer.
Students and teachers can purchase downloads directly to their computers in sections (buy just one combo of a video) or buy the entire dance video at http://www.LIVEATBDC.com, the only video production company to offer this type of buying option. Categories range from Technique to Choreography, Creative Movement to Breakdance, and include notables such as Frank Hatchett, Jared Grimes, Mandy Moore, Andy Blankenbueler and Rhapsody, to name a few.
Producer Michèle Assaf is a world-renowned teacher, director and choreographer who's directed and choreographed for Mariah Carey, Mick Jagger, Michael Bolton, Matchbox Twenty and more. A director and choreographer at the Houston Grand Opera, Assaf has worked on numerous Broadway and Off-Broadway shows for years and has become a standout talent in the dance, music, and theater arenas.
For more information on Tezoro Productions, please visit http://www.LIVEATBDC.com, or please contact:
Elizabeth Barry, President
Elizabeth Barry & Associates, Inc.
201-217-6608
http://www.EBandAssociates.com
###