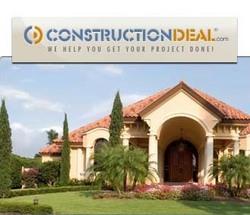 The more informed the consumer, the better choices they'll make when they remodel or repair their house. I try to provide product reviews, the latest styles, the hottest trends, and tips on how to make the remodeling process as painless as possible
Sherman Oaks, CA (PRWEB) October 15, 2007
After months of research, strategic planning and development, ConstructionDeal.com is proud to announce the relaunch of its website. As a leading company in the industry, ConstructionDeal.com helps project owners find reliable contractors, discover the latest remodeling trends, and find the right loan to pay for it all, free of charge.
Elita Dandridge, marketing manager for ConstructionDeal.com, states, "We took into account the feedback we received from site visitors, and have changed the look of our site and made it easier to navigate. Since our goal is to be a one-stop shop for anyone with a commercial or residential job request, we have added the Contractor Directory. We found some consumers don't want to wait for calls and wish to speak to a contractor in real time. Our Directory allows them to search for companies in their area and call them immediately," states Dandridge. "They simply enter their zip code, the type of contractor they're looking for, and begin reviewing the members of our network."
ConstructionDeal.com has partnered with a major lending institution to provide home equity loans and lines of credit. Homeowners can access the equity they've built up over the years to remodel a kitchen, replace their roof, or add a new room to their house. "While people are shopping for a contractor, they can apply for a loan on our website and find out right away how much money they'll have to spend. A partnership with a name lender made the most sense for our visitors. We want them to get the best rates possible," said Tim Clark, creative director.
The ConstructionDeal.com Update, a weblog for homeowners, has been added to the site to provide valuable tips, trends, and information on home renovation. "The more informed the consumer, the better choices they'll make when they remodel or repair their house. I try to provide product reviews, the latest styles, the hottest trends, and tips on how to make the remodeling process as painless as possible," notes Clark, author of all the site blogs. There is also a blog specifically for contractors, the Contractor Update that provides marketing, sales, and small business advice to service professionals.
About ConstructionDeal.com
Construction Deal.com helps homeowners and business owners get their projects done. Since 2004, they have developed a nationwide network of quality contractors and service professionals ready to help these project owners. People can post residential and commercial requests for free and are connected to local experts, usually within 24 to 48 hours. Construction Deal.com, a trusted member of the Better Business Bureau, is the fastest growing contractor referral service in the industry.
Contact:
Tim Clark
ConstructionDeal.com
Creative Director
818-657-8002
tim(at)constructiondeal.com
Elita Dandridge
ConstructionDeal.com
Marketing Manager
818-657-8017
elita(at)constructiondeal.com
###