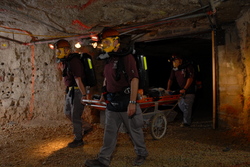 Viburnum, MO (PRWEB) October 11, 2007
For the second consecutive year, one of The Doe Run Company's mine rescue teams took top honors in the region's largest mine rescue competition, further demonstrating Doe Run's commitment to safety. Hosted by the University of Missouri-Rolla (UMR), September 25 to 27, the 25th Annual Southeast Missouri Mine Rescue Contest drew a record 15 teams, along with industry authorities such as the Mine Safety and Health Administration. Both Doe Run mine rescue teams turned in impressive performances; and several individual team members also earned trophies. Doe Run's president and chief executive officer, Bruce Neil, served as the keynote speaker at the awards banquet.
Neil underscored the importance of mine rescue preparedness in light of recent mining industry tragedy and heroism. "Training is essential preparation for facing the challenging and unexpected conditions that we may encounter in a rescue situation," Neil told the crowd. "By training for things that we can predict, we can apply our intellect to the unpredictable. That difference may save lives."
Doe Run's Maroon and Gray Mine Rescue teams added at least 40 hours to their 8-hour-per-month training regimens to prepare for the UMR contest. Their training and dedication paid off; the Maroon Team earned an impressive first place for the underground competition and captured the prestigious Dean's Trophy as the "Best in State" team. Meanwhile, the Gray Team garnered third place in the First Aid Competition, and placed fifth in the Field Competition.
In a separate contest category, known as the Benchman competition, participants are required to repair a breathing apparatus that has been preset with a defect that causes it to fail during use. Finding the defects and correcting them in a timely and effective manner is key in this portion of the competition. Garry Moore, Jr., 2006 national Benchman competition title holder and BG4 Benchman for Doe Run's Gray Team, placed first in the contest for the second consecutive year and also achieved zero discounts. Maroon Team Benchman Ricky Martin placed fourth.
In another category, known as the gasman competition, participants repair a gas monitor that has been preset with a defect. Thus, finding and correcting the defect in a timely and effective manner is also key in this competition. Ken Wood, gasman for the Gray Team, won first place in the multi-gas bench competition and achieved zero discounts. First-time medal winner Luke Davis, gasman for the Maroon Team, took second place.
The 2007 UMR competition marks the seventh time that a Doe Run team has placed first overall.
"Mine rescue teams train repeatedly for events like this, so they will be prepared to place themselves in harm's way at a moment's notice," added Neil during his remarks. "They are true heroes, and the only higher calling in our industry is working to prevent the incidents that put mine rescue in action. As we salute our team members, none of us should be content. Only learning, training and working together can make us better."
Numerous industry experts develop intricate and intense challenges for the annual UMR competition, which helps industry professionals sharpen skills and share best practices. Held at UMR's experimental mine site, the multi-phase contest consists of written tests, simulated mine rescue drills and emergency first-aid scenarios. Many of the teams that participated in the UMR event will also be competing in the 2008 National Mine Rescue Competition – slated for the week of July 13, 2008, in Reno, Nev.
Based in St. Louis, The Doe Run Company is a privately held natural resources company and the largest integrated lead producer in the Western Hemisphere. Dedicated to environmentally responsible mineral and metal production, Doe Run operates the world's largest, single-site lead recycling facility, located in Missouri. The Doe Run Company and its subsidiaries deliver products and services necessary to provide power, protection and convenience. Doe Run has operations in Missouri, Washington and Arizona. For more information, visit http://www.doerun.com.
EDITOR'S NOTE: Photos available upon request.
Contact:
Angie Nations
(573) 518-1508
###