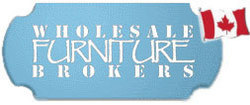 Look for further price decreases on shipments that originate from Canadian importers in the near future
Kamloops, BC (PRWEB) October 12, 2007
Wholesale Furniture Brokers has announced a price decrease on their Canadian website in response to the appreciation of the Loonie. Canadian online shoppers have always faced the conflict of finding a better deal at a furniture store online while having to pay for additional shipping and duties charges, as most suppliers are located south of the border.
"We've reduced prices on the Canadian website by 5 - 10% on our popular Lifestyle Solutions, Modus, and Fairmont Designs products. There are many other products we're looking to address on a case by case basis", says Dave Zirnhelt, co-founder of Wholesale Furniture Brokers (WFB). Canadian online furniture shoppers can begin enjoying this price drop immediately on WFB's Canadian website, http://www.GoWFB.ca. "We're putting pressure on our Canadian vendors as well, to reduce prices and some have already complied", says Zirnhelt, "Look for further price decreases on shipments that originate from Canadian importers in the near future". This price drop on U.S. furniture comes at a perfect time, when many Canadian manufacturers like Coja, a high-end leather sofa manufacturer and South Shore, a low-cost RTA furniture supplier, are raising their prices.
This price break comes as a relief to many Canadian online furniture shoppers searching for a wider selection than many stores have been offering. Wholesale Furniture Brokers offers as much variety to their Canadian shoppers as they do to their American ones, offering shipping options across all of North America. Something that all shoppers will need to keep in mind is that prices are still going to be slightly higher on their Canadian website (GoWFB.ca) than on their American website (GoWFB.com) due to unavoidable shipping and importing charges incurred going across the border.
Shipping furniture to Canada costs approximately 10-20% more than shipping domestically. The cost of fuel alone is constantly pushing shipping rates higher and higher. There are brokerage fees to be paid (ranging from $50-$100 per shipment) as well as additional duties on merchandise produced overseas (9-10% value of goods). Coupled with the necessary man hours to handle often incomplete paperwork, as many manufacturers are unfamiliar shipping across the border, these frieght costs mean prices will continue to be higher for Canadians when buying products that need to be shipped out of the United States. It's worth noting that WFB's online furniture store pricing includes all of these additional (and often hidden) fees. You will not receive your furniture with any customs payment required before you get what you ordered, WFB takes care of it all before it arrives at your door. Their online price drop helps alleviate the pressures of paying these extra costs.
A wide variety of affordable furniture has become available to Canadians thanks to the strength of the Loonie and Wholesale Furniture Brokers is helping Canadians enjoy the newly level playing field of North American shopping.
About Wholesale Furnture Brokers
Wholesale Furniture Brokers is an expanding network of furniture stores that exist to offer shoppers an easier, stress-free alternative to high-cost retail shopping. Starting in 2002 with just a few outlets in the United States, Wholesale Furniture Brokers has branched coast to coast with over 40 affiliate outlets in the U.S. and Canada. Their website started a Click-and-Mortar revolution in the industry offering a simple online shopping experience mixed with local, personalized service.
###