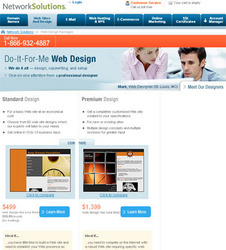 Why Hire a Professional Web Designer?
Herndon, VA (PRWEB) October 15, 2007
The Internet has changed the way the world does business - and that's just as true for the business next door as for the business on the other side of the world. A Website is not only a necessity in today's business world, but for a company's Web site to be effective, it has to send a professional, clean, well-organized, responsive, lively, and up-to-date image. Network Solutions new white paper "Why Hire a Professional Web Designer?" educates small businesses on the importance of having a Website, as well as why it is necessary to stand out from the crowd with a professional Web site design in order to establish an online presence.
A professional Web site design not only catches the eye of the consumer, but also gives them incentive to stick around and dive deeper into a Website. Network Solutions affordable web design services make it easy for small businesses to get online and get started with a suite of web design services. Providing professional designers that have extensive small business web design experience, a professional Web site design is easier to achieve than many business owners might think.
Jeff Grosman, SVP of Product Marketing and Management for Network Solutions explains, "Small business owners recognize the need to have an online presence, but have so many other responsibilities on their plates, that establishing an online presence can often times take a back seat to other, more pressing, day-to-day business operations. Network Solutions wants to help small businesses succeed, which is why we have released this white paper, designed to help educate small businesses about the importance, basic process and value of getting online with a professionally designed Website."
This white paper helps small business owners navigate topics including understanding what makes a Web site high quality, what it means to a business' bottom line, knowing the pitfalls to avoid when developing a Website, and how to find reliable, affordable Web design assistance.
Download the white paper to learn more about affordable web design services. For more information about Network Solutions and their suite of design services, please visit NetworkSolutions.com.
About Network Solutions
Network Solutions is the leading provider of Internet services for small and medium-sized businesses including domain name registration, Web hosting, Web design, E-commerce software and more. With 28 years of experience, Network Solutions has become a trusted name when it comes to easy-to-use and affordable Web-based products for businesses.
###