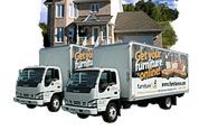 Our first priority is customer satisfaction. If you are not satisfied, we are not satisfied.
Philadelphia, PA (PRWEB) October 17, 2007
With the 2007 holiday season fast approaching Furniture XO is well prepared to meet all of the customers' holiday shopping demands. Over the past few months Furniture XO has expanded its assortment of products and has added a large selection of home furnishings to its website. Being the fastest growing and one of the largest home furnishing e-commerce stores in the United States, the company now offers smaller home furnishing products such as accessories, lighting, and bedding. The result is a selection of more than 20,000 SKUs that continues to grow in number daily. Furniture XO has thus become more well rounded and offers customers a one-stop-shopping experience for all home furnishing needs.
In today's world of retail, the convenience offered by purchasing over the internet has become a predominant factor in many industries. The perfect example of industries that have felt the impact of e-commerce has been books, clothing, and travel planning. No longer does the consumer have to spend days at the mall or at local stores but can do everything in the comfort of their home at any time their busy schedule allows. The average American today no longer has the time to shop at a leisure pace. Between endless errands, cooking dinner, and driving the kids to softball practice, people treasure any minute they can save and value any extra conveniences they can use to make their lives easier.
The furniture industry has been slow to follow the overall trend of e-commerce due to potential difficulties of shipping large items such as dressers and sofas across long distances. Needless to say, with the right approach nothing is impossible. Furniture XO has mastered the art of servicing the entire United States with furniture with no hassle for the consumer. Being an expert in shipping large items the company is adding smaller items to its selection to better serve the customer.
Now people have the option of not only buying small and light items such as clothing online but can furnish their entire home while sipping tea in their pajamas after the kids have gone to bed. It is no longer necessary to spend weekends going to local furniture stores to see what options are available. Customers can browse huge selection of home furnishing products at their leisure - Furniture XO is here to bring this new level of convenience to America.
In addition, Furniture XO is proud to be the first in the furniture industry to add a new feature of social bookmarks all major pages of its website - a customer can browse the extensive selection and create bookmarks that can be shared with their friends and family. "Now Furniture XO customer can be anywhere in the world browsing our website and point their social network to any item or page they are interested in" says Ellen Klebanov, Vice President and Director of Operations. This new feature is in tune with the latest social trend that has taken over the internet at sites such as del.icio.us, Google Bookmarks, and Yahoo Bookmarks and is an exciting introduction.
While staying on top of the hottest technology trends "our company's practice is to partner with only well known, respectable furniture manufacturers. We believe that this helps our customers feel more confident about their purchase and allows us to ensure their complete satisfaction," says Ellen. "Our first priority is customer satisfaction. If you are not satisfied, we are not satisfied."
Furniture XO presents customers with the largest selection of top brands of furniture and accessories. Today the company offers furniture products from such world famous home furnishing brand names as AICO Furniture, American Drew, Ashley Furniture, Catnapper, Coaster, Fairmont Designs, Gautier USA, Jackson Furniture, Kathy Ireland by Standard, Kincaid, Klaussner Furniture, Lea Industries, Magnussen Home, Powell, Pulaski Furniture, Serta, Standard Furniture, and many more.
While being able to choose from a large variety of furniture manufacturers, Furniture XO customers can furnish their entire house by shopping at one place. The company offers a large selection of furniture for all rooms in a home. While browsing the thousands of products the customer is guided by a menu from room to room in a virtual showroom or largest online catalog. The choice begins with bedroom furniture, living room furniture, dining room furniture and kitchen furniture. The selection continues with accent and occasional furniture as well as that for your kids and baby rooms and home office. The catalog is completed by accessories such as rugs, clocks, and lighting and other items such as mattresses.
For more information call (800) 771-7868.
###