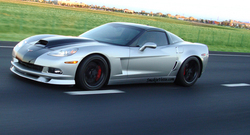 Sacramento, CA (PRWEB) October 15, 2007
SmokinVette.com an Corvette Forum and club operated by Corvette enthusiasts for Corvette enthusiast has spent the last eight months building up two heavily modified 2005 Corvettes to spearhead the "SmokinVette.com" brand name. SmokinVette.com is a Corvette Forum that creates a fun non political environment for Corvette owners and enthusiast to share ideas, views, product reviews, technical, Q&A and much more. SmokinVette.com is open to all Corvette generations from C1 to C5 and C6's. Registration is free and gives the Corvette enthusiast unlimited forum post's and photo uploads in our "Vette Gallery", a collection of Corvettes photos uploaded from Corvette owners around the world, giving them the ability to showcase their stock or modified Corvette! While visiting SmokinVette.com that guest has access to a wide selection of product advertisers some of the most recent to join the proud Smokin family include Ecklers, TriStarPerformance.com, and Dynamic Tuning Solutions.
During the research development stage on our two 2005 Corvettes projects, we had contacted product vendors from around the globe, analyzing carefully which direction we wanted to go, which direction would create the largest "WOW" factor. With regards to our Silver 2005 Supercharged C6 Corvette that was heavily modified we needed some impressive braking power. After all what good is all that power, if you can't stop when you need to? We carefully researched a number of companies and at the end of the day had decided with AP Racing. What made the difference was the personal touch the company offered, backed by impressive product, engineering team and equally impressive executive team.
AP Racing is no stranger to impressive brake components, then pulled our Silver 05 Vette into their Orange County, California facility at which time they started their process of designing and fitment for the C6 Corvette set up. At the end of the day AP Racing went with a lightweight 6 piston caliber on the front and a 4 piston caliber for the rear. AP Racing 362mm x 32mm rotors where used in the front and AP Racing 356mm x 26mm for the rear rotors. Brake pads that where used was no other than Mintex Xtreme Motorsport Compound, a high friction brake pad for race pad stopping power that offered excellent grip -- from cold to over 1300°F (700°C)! (For full details of components please visit SmokinVette.com).
The front brakes were installed tale end of March 2007, giving us months to test the massive stopping power these brakes had to offer as we waited for the rear brakes to finish design and manufacturing process. All the components AP Racing used during the designing of these brakes play a very valuable part in what makes these brakes so amazing under normal street driving, just the same under quick deceleration. Moving from the stock Z51 brakes this 2005 C6 Corvette came with to this AP Racing performance braking system was no comparison. Hats off to you AP Racing, not only do these brakes look great, they perform equally as well!
SmokinVette.com would like to give special thanks to the team of brake specialist over at Big O Tire at 5701 Folsom Blvd, Sacramento CA (916-452-5946) who installed AP Racing rear brakes on our Silver 2005 Corvette, and I would also like to add their service was A+.
For more information on SmokinVette.com Corvette Forum, AP Racing big brakes kits, Corvette Photos or more feel free to visit our web site by CLICKING HERE. By registering on SmokinVette.com which only takes a couple of minutes, you not only join an incredible Corvette community, you will also be included in future SmokinVette.com Monthly news letters, full of product reviews, tips, and much more.
___________________________________________________________________________
After visiting our main site, feel free to visit our C6 Corvette Forum Blog
###