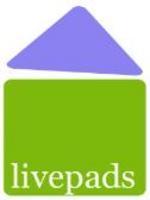 Philadelphia, PA (PRWEB) October 16, 2007
LivePads.com, a real estate web 2.0 site, launched today the first ever robust real estate search application on the Facebook platform. The LivePads Facebook Application allows Facebook users to search for homes or to post a home for sale on their profile.
Leveraging the power of Facebook, LivePads assists users in the buying and selling of homes. As a homebuyer, a Facebook user can add the LivePads Facebook application to their profile. Once added, the homebuyer will enter his or her house criteria and the powerful search engine will crawl all real estate sites for houses that match the search criteria. When buyers find houses they like, they can save the houses to their profiles. This powerful feature allows users to file houses so they can quickly access them in the future, share their saved houses with their realtors and request more information, and also share their saved houses with their networks of friends.
The second piece of the application is geared toward home sellers and realtors. As realtors, users can add their current real estate inventories to their Facebook profiles. Realtors have the ability to send houses to their clients via the Facebook network. As home sellers, users can list their homes for sale on their profiles. Users then have the option to send their houses for sale to users in their friend lists. Once another user receives the request, they also have the option to display the home for sale along with details, with another option to share with their friend list. This adds more marketing and sales opportunities for the home seller by having their home being displayed on multiple Facebook profiles. Finally, if a user notices one of their friends has a house for sale and knows of another friend that is looking for a house, the user will have the ability to send the house to another user's Facebook profile.
Facebook users communicate and share information through the social graph, the network of connections and relationships between people. Facebook is the sixth-most trafficked website in the United States. More than 50 percent of Facebook users return to the site each day. "Facebook Platform creates an ecosystem for developers to build applications that deeply integrate into Facebook and use its social graph," said Mark Zuckerberg, Founder and CEO of Facebook. "By enabling developers to make applications within Facebook, we're working together to create a better utility for millions of people."
For more information on LivePads, please visit http://www.livepads.com. To begin using the LivePads Facebook Application, please visit http://apps.facebook.com/livepads and download the application (PLEASE NOTE: A Facebook ID is required to access the LivePads Facebook Application.)
Facebook is a registered trademark of Facebook, Inc.
###