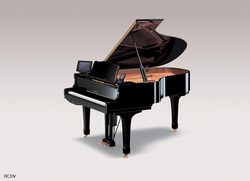 For 20 years, the Yamaha Disklavier line of performance reproducing pianos has defined the leading-edge of music technology
Buena Park, CA (PRWEB) October 15, 2007
In the early 20th century, when the radio replaced the player piano as the dominant source of home entertainment, the era of parlor music came to an unceremonious end. Now, the player piano is getting its revenge. The introduction of the Yamaha Disklavier , the world's most advanced performance reproducing piano, resurrected interest in the piano. Now, with the recent release of Disklavier 2.0, Yamaha introduced DisklavierRadio and the DisklavierMusicStore. Both services combine the best aspects of live performance with next-generation Internet streaming technology to offer an in-home entertainment experience that no radio can touch.
"For 20 years, the Yamaha Disklavier line of performance reproducing pianos has defined the leading-edge of music technology," noted Bill Brandom, Disklavier marketing manager. "With the introduction of DisklavierRadio and the DisklavierMusic Store, we're once again making history. Now, Yamaha Disklavier owners can take advantage of Internet streams and downloads to instantly access a vast selection of Disklavier music incorporating MIDI for the ultimate in realism. The radio may have surpassed the player piano in the early 20th century, but with these advancements, the piano is reclaiming the spotlight."
DisklavierRadio is a groundbreaking service that elevates streaming radio to the level of a live performance. Each station includes a MIDI feed, enabling the Yamaha acoustic piano to play live, accompanied by specially recorded ensemble parts, for remarkable realism and accuracy. Yamaha Disklavier owners who subscribe to Disklavier Radio can choose from a range of music stations including Broadway, Classical and Semi-Classical, Country, Great Piano Solos, Jazz, Pop, Rock and Classic Rock, Soundtracks and Standards. Non-subscribers can access 30-second clips of channels, and can stream a complimentary channel featuring full-length, public domain songs. DisklavierRadio streams selections to Internet-connected Disklavier Mark IVs, offering nonstop entertainment, 24 hours a day, 7 days a week. The subscriptions cost $19.95 per month or $199.50 per year. The service features the music of such renowned artists as David Benoit, Jim Brickman, Chick Corea, Elton John and The Beatles, to name a few.
For those who wish to download their favorite tracks, the DisklavierMusicStore can be accessed directly from the Disklavier Mark IV's Pocket Remote Controller. After establishing an account, Disklavier owners can immediately preview, purchase and download songs directly to the instrument.
Current Disklavier Mark IV owners can access DisklavierRadio and DisklavierMusicStore functionality by installing the Disklavier 2.0 software upgrade, which is available free of charge, from Yamaha. Both services require a high-speed Internet connection.
Offering a broad range of compelling features, Yamaha Disklavier pianos can play themselves, teach you to play melodies and perform in sync with many of your favorite CDs. All Mark IV models include a PDA-type Pocket Remote Controller, a wireless remote with dedicated buttons and a full-color LCD touch screen. The remote controller uses the 802.11b wireless specification to communicate with the piano over long distances, enabling full-function control of the Disklavier through walls for unprecedented flexibility.
The Disklavier Mark IV line features open-ended software-based architecture built on a rock-solid Linux operating system to facilitate future upgrades and expansions, thus offering outstanding investment protection. For exceptional simplicity, updates are downloaded directly to the Disklavier over the Internet. A built-in, 80-gigabyte hard drive enables easy, high-volume storage of MIDI, audio and graphic data.
For more information on Yamaha Disklavier pianos, write Yamaha Corporation of America, Piano Division, P.O. Box 6600, Buena Park, CA 90622; telephone (714) 522-9011; e-mail infostation @ yamaha.com; or visit http://www.yamaha.com/disklavier .
About Yamaha
Yamaha Corporation of America is the largest subsidiary of Yamaha Corporation, Japan and offers a full line of musical instruments and audio/visual products to the U.S. market. Products include: acoustic and digital pianos, portable keyboards, guitars, acoustic and electronic drums, band and orchestral instruments, marching percussion products, synthesizers, professional digital and analog audio products, and innovative technology products targeted to the hobbyist, education, worship, professional music, and installation markets.
# # #