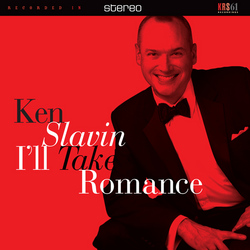 Ken's vocals are clear, rich and swinging...
San Antonio, TX (PRWEB) October 16, 2007
With his sights set on finally breaking out regionally and nationally, Ken Slavin, San Antonio's favorite singer, has released I'll Take Romance -- a tour de force of romantic jazz and pop songs showcasing his rich, expressive voice and demonstrating why he is poised to emerge as a star in the classic jazz/pop vocal resurgence in America and abroad.
"I was classic when classic wasn't cool," Slavin says. "With all due respect to talented young singers like Michael Bublé -- and with thanks to them for exposing this music to a new generation of listeners -- there's something to be said about us 40-somethings who've really lived life and can make a song sing the way it's supposed to. I have high hopes that this CD will earn the industry recognition it deserves."
Jazz Media Swoon Over Romance
Positive feedback from national jazz media, including Cadence magazine, and radio stations as far away as Italy and Poland indicates that this CD -- his fourth release -- is on the road to discovery.

"When it comes to crooning in the classic jazz/pop tradition, Ken Slavin has no peers." - San Antonio Express-News
"Ken's vocals are clear, rich and swinging..." - JAZZ Online
"Slavin slays the crowd!" - Texas Monthly
"Velvety, smooth and compelling classic jazz vocals by one of today's most exciting singers." - CDbaby.com
"We NEED guys like you with a passion for this music to get it in front of as many people as possible. YOU are the real hero in this Great American Songbook renaissance we're seeing." - Brad Chambers, Martini in the Morning (Internet Radio Show)
"Slavin delights in turning his material sideways, making even the most familiar tunes sound like new discoveries." - Gilbert Garcia, San Antonio Current
Slavin, 46, has been a beloved entertainer in the Lone Star State for 17 years. Music critics and fans hail him as Texas' answer to classy singing stars of yesterday, such as Johnny Hartman, Mel Tormé and Nat King Cole. He has opened for top-flight jazzers Eddie Palmieri, Dee Dee Bridgewater, Chico Hamilton, David Sanborn and The Four Freshmen. Programmed on several local radio stations, he recently was named San Antonio's "Best Vocalist" in a citywide poll.
About I'll Take Romance:
I'll Take Romance, with 16 sizzling tracks, was conceived and executive-produced by Slavin, produced by noted jazz pianist/composer/arranger Barry Brake of The Jazz Protagonists, and recorded and mixed by Danny Reisch at Keith Harter Music in San Antonio. Mastering was expertly handled by Steve Fallone at Sterling Sound in New York City -- nationally recognized for his award-winning digital re-mastering of Ella Fitzgerald and Louis Armstrong's classic Verve LP, Ella and Louis. Fallone also worked on Norah Jones' latest, Not Too Late.
Along with Slavin's voice, stunning performances by Texas' best jazz musicians, including Grammy winner Al Gomez on trumpet and Grammy nominee Henry Brun on Latin percussion, make the CD one of the best jazz recordings to come out of Texas in years.
I'll Take Romance opens with an updated musical gem: Thoughts of Your Smile, a totally new interpretation of Manhã de Carnaval, the 1959 Brazilian bossa nova classic by Luiz Bonfa, known to American jazz enthusiasts as A Day in the Life of a Fool. Slavin is the first singer to record the new version - with lyrics by producer Brake set to the haunting Bonfa melody.
Other outstanding tracks include a Nelson Riddle-inspired version of the title song, featuring San Antonio Symphony violinists. Three Latin-infused performances spotlight Brun: the 1960s bossa nova hit Summer Samba, the Sammy Cahn standard Day by Day and Rosemary Clooney's Top 10 hit Mangos. Also included are fresh takes on Cole Porter's You'd Be So Nice To Come Home To; Frankie Laine's That's My Desire; Duke Ellington's Do Nothin' Till You Hear From Me; Harold Arlen and Johnny Mercer's evergreen Come Rain or Come Shine; James Van Heusen's But Beautiful; and Lerner and Loewe's I Could Have Danced All Night from the musical, My Fair Lady. Rounding out the disc are two 1920s charmers, Tea for Two and Just You, Just Me, and a 1930s heartbreaker, Alone -- originally sung by Kitty Carlisle in the Marx Brothers' classic MGM film, A Night at the Opera.
Ken Covers Connie
The most unusual track is a virtually unknown song commissioned 40 years ago by legendary pop music superstar Connie Francis, I Can't Reach Your Heart. Written by Benny Davies and Ted Murry, who penned some of Francis' biggest hits, including her 1962 Billboard-topping single Don't Break the Heart That Loves You, it appeared on the B-side of the soundtrack LP for her 1963 MGM film, Follow the Boys. Besides Francis and Slavin, the only other artist ever to record this beautiful song is Agnetha Faltskog, a former member of ABBA.
Slavin says he included this Francis song as a personal tribute "to one of the best pop singers ever - a lovely lady who has been sadly underrated by the critics for years and who deserves to be re-discovered and honored."
CD on Sale Now
I'll Take Romance is available in select stores, online at CD Baby.com, Apple iTunes and other sites, as well as at Slavin's many personal appearances.
For more information, call 210-736-0856 or visit Slavin's official websites at: http://www.kenslavin.com and http://www.myspace.com/kenslavin.
###