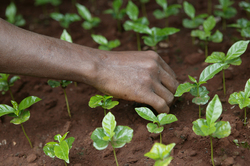 Boston, MA (Vocus) October 15, 2007
In anticipation of the 2007 holiday season, Oxfam America today announced a roster of 22 new items which will be added to its online alternative gift catalog, http://www.OxfamAmericaUnwrapped.com. Donors can support the environment when they plant 50 trees, or feel warm and fuzzy all over with the gift of a dozen baby chicks. Other fundamental items such as life jackets, water tanks, mosquito nets, and school uniforms have been added to the catalog, and make a significant difference for communities in need. There are now 53 items available through Oxfam America Unwrapped, all of which are actually used in Oxfam America programs around the globe.
"With more ways to give, Oxfam America Unwrapped is a truly unique way to support the fight against global poverty," said Stephanie Kurzina, vice president of fundraising for Oxfam America. "Whether it's an animal lover or a nature lover in your life -- from cows to crocodiles, to planting the seeds of a garden - this is the way to give a great gift which and help support long-term solutions in the developing world."
Oxfam America Unwrapped launched last year with more than three dozen symbolic gifts – the proceeds of which support Oxfam's programs in more than 120 countries. Popular gifts last holiday season included: a sheep, water jugs and the ability to plant 50 trees. All gift contributions are general donations to Oxfam America and are fully tax deductible.
Items which have been added to Oxfam America Unwrapped this year include:
• A life jacket ($18): a fundamental way to play a part saving lives in developing countries, this gift is a basic survival tool for families fleeing and navigating flood zones.
• Baby Chicks ($40): a dozen of these furry friends are a cheerful gift which helps support farming families.
• Bicycle ($85): a basic necessity in any developing community, this gift provides transportation and independence for people in rural areas.
• Mosquito Net ($18): this simple gift protects people from the spread of malaria and other mosquito-borne diseases, and is a particularly important resource in flood-stricken coastal areas.
Click on http://www.oxfamamericaunwrapped.com to view all 53 of the items available in the catalog.
Oxfam America is an international relief and development organization that creates lasting solutions to poverty, hunger, and injustice. Together with individuals and local groups in more than 120 countries, Oxfam saves lives, helps people overcome poverty, and fights for social justice. To join our efforts or learn more, go to http://www.oxfamamerica.org

*Note to editors: Camera-ready art of Oxfam America Unwrapped items are available upon request
###