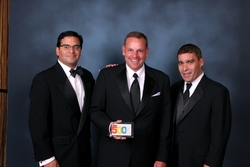 The Inc. 5,000 provides the most comprehensive look ever at the most important part of the economy - the entrepreneurial part
Scottsdale, AZ (PRWEB) October 16, 2007
AmazingMail (http://www.amazingmail.com), a custom postcard provider, recently announced its ranking as company number 2,034 on the first-ever Inc. 5,000 list of the fastest-growing private companies in the country. The Inc. 5,000, an extension of Inc. magazine's annual Inc. 500 list, catches many businesses that are too big to grow at the pace required to make the Inc. 500, as well as a host of smaller firms. Taken as a whole, these companies represent the backbone of the U.S. economy.
"The Inc. 5,000 provides the most comprehensive look ever at the most important part of the economy - the entrepreneurial part," explains Inc. 5,000 Project Manager Jim Melloan.
The 2007 Inc. 5,000 reported median revenue of $9.4 million and median three-year growth of 140 percent. With a growth of 175.8 percent, AmazingMail exceeded the three-year norm. Complete information on this year's Inc. 5,000 can be found at http://www.inc.com/inc5000. The list features a profile for each company, including custom postcard provider AmazingMail.
As the leading provider of custom postcard solutions, AmazingMail allows businesses and individuals to easily create and mail quality postcards online in just minutes. From real estate mailers to invitations and holiday cards, AmazingMail makes direct mail simple for do-it-yourselfers and small businesses looking to create, print and mail anywhere from one to 10,000 high quality postcards.
With AmazingMail, postcards get noticed and get results.
About AmazingMail:
AmazingMail.com®, Inc. is a privately-held company located in Scottsdale, AZ and is the only internet direct response postcard provider with a U.S. Patented process that provides you a superior direct mail campaign experience. AmazingMail provides custom one-to-one or one-to-many direct mail marketing campaigns that can enhance any business marketing campaign strategy through unique, amazing custom postcards. AmazingMail direct mail postcards are created via web-digital-print technology and mailed the next business day by the U.S. Postal Service. Since its establishment in 1998, AmazingMail has provided a service that allows customers to stay competitive in an aggressive market.
###