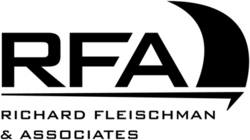 Risk Control Strategies understands the importance of meeting its customer's needs for best-in-class, comprehensive security services
New York, NY (PRWEB) October 17, 2007
Richard Fleischman & Associates (RFA), a leader in outsourced IT solutions and the trusted advisor to more than 400 hedge funds and private equity firms and Risk Control Strategies (RCS), a leading threat management and risk assessment security consulting firm, today announced the formation of an exclusive partnership. The alliance pairs the two top providers of risk management services and offers high net-worth clients, hedge funds and financial service providers comprehensive threat management solutions to minimize corporate risk.
Under the terms of the agreement, RFA provides a full suite of BCP/DR and threat management capabilities to help manage and mitigate operational risk. RCS's threat management, investigations, security and crisis containment expertise offer clients an added level of corporate security including executive protection, investigative due-diligence, incident avoidance strategies and incident mitigation services.
Security Services Provide Clients With Greater Peace of Mind
The partnership provides customers with a full breadth of security solutions for a greater peace of mind. Because each client's situation is unique, RFA and RCS will provide value-added, pass-through services that are completely customized.
"Risk Control Strategies understands the importance of meeting its customer's needs for best-in-class, comprehensive security services," said Paul Michael Viollis Sr., Ph.D., CEO of Risk Control Strategies. "We consider RFA to be a firm of great integrity and established credibility in the hedge fund space, whose expertise is only surpassed by their character."
"The partnership between RFA and RCS offers clients a complete risk management solution. The proven experience of both companies in threat management and risk assessment mitigation assures that our client's security needs are met -- from both an IT level and corporate security level," said Richard Fleischman, president of RFA. "The new joint offering brings high net-worth clients an increased peace of mind so they can focus on the handling the more important details of running their businesses."
About Risk Control Strategies:
Risk Control Strategies is a threat management and risk assessment security consulting firm offering a variety of security solutions to high net-worth clients, Fortune 1000 corporations and municipalities. The professionals of RCS employ realistic, results-oriented strategies with timely deliverables. With decades of experience in the security and crisis containment arena, the firm is a recognized leader in the industry and consistently provides seminars for their clients on how to mitigate security risk. The firm is headquartered in New York City with offices in California and Florida. To learn more about RCS, please visit http://www.riskcontrolstrategies.com.
About Richard Fleischman & Associates (RFA):
Established in 1990 and headquartered in New York, NY, Richard Fleischman & Associates is a trusted advisor to over 400+ hedge funds, private equity funds and fund of funds globally, offering both turnkey IT solutions and on-site and remote monitoring staffed 24/7/365. As a full-service technology-outsourcing provider, RFA delivers expert service by its team of more than 130 expert IT consultants. RFA maintains a world-class data center in Purchase, NY, providing fully equipped office and trading desk space, disaster recovery and business continuity services. For more information, visit http://www.rfa.com or call 212.867.4600.
# # #