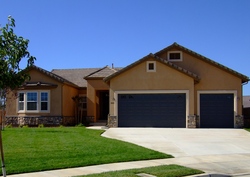 This auction presents an incredible deal for buyers and the recent Fed rate cut is icing on the cake
Newport Beach, CA (PRWEB) October 16, 2007
Freedom Realty Exchange (FRE), an online real estate auction marketing company and a member of the LFC Group of Companies, has just announced the launch of their "Wine and Roses" online auction to sell three new single-family homes and thirteen separate residential lots in Paso Robles, California. With the Federal Reserve recently slashing a key interest rate by half a point, from 5.25 percent to 4.75 percent, lenders have subsequently dropped their prime lending rate, making this online auction the perfect opportunity for buyers who have been contemplating purchasing or building a new home.
"This auction presents an incredible deal for buyers and the recent Fed rate cut is icing on the cake," exclaims Bill Lange, President of the LFC Group of Companies. "Besides the prime location of these properties in California's wine country, this auction offers homebuyers a great opportunity to name their price because the seller must sell this inventory."
The three single-family homes and six of the home sites are located in Caymus Court, a suburban neighborhood in a newly-developed area of Paso Robles. Situated only a few miles away from historical downtown, the Paso Robles golf club and several wineries, Caymus Court is centrally located with all local public schools within a two-mile radius. The three modular, factory-constructed, homes range from approximately 2,360 to 3,160 square feet and offer from 4 to 5 bedrooms and 2.5 to 3 bathrooms. Standard amenities in these ready-to-move-in homes include tile entryways, solid quartz countertops, hardwood floors, multiple built-in fireplaces and custom cabinetry. The six large residential lots range from approximately 7,500 to over 9,000 square feet and are perfect for someone looking to build their dream home in a new development. Also offered in this online auction are an additional seven 1-acre lots just off of Highway 46 and Interstate 101 and conveniently located near a local winery and several golf courses.
Paso Robles, considered California's fastest growing wine region, holds the charm of a rural community, with its friendly and hospitable residents, yet is developing into a center of industry, viticulture, recreation and commerce. Nestled in the coastal mountain range of central California, it is a short drive from beaches, mountains, deserts and the thriving metropolitan areas of Los Angeles and San Francisco. Just 30 minutes from coastal communities, including picturesque Morro Bay, 30 minutes from the campus of Cal Poly State University in San Luis Obispo and 45 minutes from the famous Hearst Castle, Paso Robles features attractions and entertainment to fit anyone's interests. Besides being home to one of the United States' premier wine growing areas and an increasing number of hot springs resorts, Paso Robles also offers safe neighborhoods, state-of-the art recreation facilities, convenient shopping and dining, and excellent public schools.
With a bid deadline of November 15, 2007, interested buyers are encouraged to review more information about the properties and register to participate in this "must sell" online auction by visiting http://www.FRE.com/163R2.
Freedom Realty Exchange - part of the LFC Group of Companies For over 30 years, the LFC Group of Companies have served numerous Fortunate 500 companies, real estate developers, investors, financial institutions and government agencies by auction-marketing thousands of commercial, industrial, land and residential properties with an aggregate value well in excess of $5 billion.
###