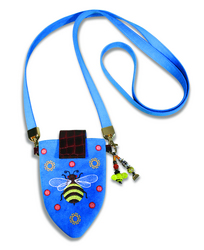 Each purse design has a name that has a special meaning and is connected to a charity organization
Tampa Bay, Florida (PRWEB) October 17, 2007
Significant Journey, Inc. , a unique handbag company, has designed a new line of purses that will capture a woman's soul while giving back to society. Designer Kathy Lengyel started Significant Journey with a dream to create unique purses that feature machine embroidery and appliqué on Torray Ultrasuede® and leather with exquisite detail and bold colors that would appeal to women of all ages.
Lengyel's latest line features a mini, cross-body purse called the "Nitty Gritty". The Nitty Gritty bags include four designs with magnetic tab closures, Velcro® back pockets and long adjustable straps. These bags are designed to carry just the essentials -- a cell phone or mp3 player, driver's license, credit cards and cash.
"Each purse design has a name that has a special meaning and is connected to a charity organization," Lengyel says. "So when a woman picks a particular purse to carry she is making a statement about her beliefs and what is important to her."
The special names given for each design all have a positive message representing the causes and charities they support. For instance, "Bee Yourself" has bumble bees swarming around polka dots, representing the idea that bumblebees are not aerodynamically designed to fly, but fly anyway. Ten percent of the proceeds for "Bee Yourself" go to organizations that help women build their confidence. The "Teach" bag features a labyrinth, which is a metaphor for the journey one takes to the center of her deepest self and back. Ten percent of the profits for "Teach" bags will go toward Autism research.
Some of the other purse styles and the causes they benefit include "Inspiration" (helping people inspire others) and "Peace" (helping people cope with death and bereavement).
Significant Journey's other line of purses includes larger-sized handbags , available in five designs with metal zipper closures, single handles, multiple interior pockets and two exterior pockets to hold a cell phone or mp3 player.
The handbag line also includes a purse inspired by the designer's alma mater, Hood College. Ten percent of the profits for the "Hood College Purse" go to the school's annual funds.
Significant Journey purses are available online at http://www.significantjourney.com or by calling the company at 727-488-4624. Each purse is made-to-order and takes 3-4 weeks. The first 100 handbags of each design are signed and numbered by designer Kathy Lengyel.
Contact:
Kathy Lengyel
Significant Journey, Inc.
727-488-4624
# # #