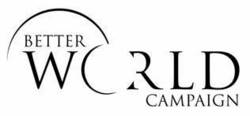 Washington, D.C. (Vocus) October 16, 2007
The Better World Campaign (BWC) announced today that former United States Representative Jim Leach, of Iowa, will address the World Hunger Summit today in Des Moines and urge the world to come together to solve global problems such as poverty, war and hunger.
In addition to BWC, The U.S. Center for Citizen Diplomacy and the Drake University Center for Global Citizenship sponsored Rep. Leach's speech. Rekha Basu, an international and multicultural columnist at the Des Moines Register, will introduce Leach and moderate the program, which will include questions from the audience.
In his remarks, Leach will address the need for, and historical value of, international cooperation in making the world safer and better for all humankind.
Immediately following his remarks, BWC and UNA-USA Iowa will host a reception from 4:00 PM to 6:00 PM at the Des Moines Marriott Downtown (700 Grand Avenue).
About the Better World Campaign
The Better World Campaign is an advocacy initiative of the Better World Fund and the United Nations Foundation. The Campaign promotes support for the UN and the benefits of international cooperation as a means of solving the critical global challenges of the 21st century, from peace and security to environmental protection and sustainable development. For more information, visit http://www.betterworldcampaign.org.
Press Contact:
Katherine Miller
UN Foundation/Better World Campaign
(o) 202.778.1622
# # #