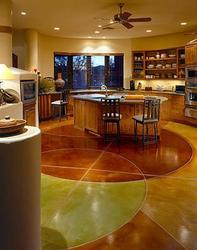 A faux finish is made to look like something else
Yucaipa, CA (PRWEB) October 18, 2007
Designing and creating with faux finish techniques provides many options for making plain surfaces much more intriguing and appealing. These techniques offer a wide variety of possibilities for creating unique surfaces. Perfect for interior and exterior application including vertical walls or floors, faux finishes continue to grow in popularity.
The Concrete Network Website has recently launched a new section that explores the highly innovative technique that is faux finishing. From a detailed description of what the application entails, the website also gives insight on which surfaces can receive a faux finished design, and highlights different faux projects from around the country.
Faux (pronounced 'foh') means imitation or fake.
"A faux finish is made to look like something else," explains Christina Lask, owner of Faux Designs in Albany, Ore. "It's using color and application techniques to make something look like fake stone, fake marble, or fake wood."
Faux finishing techniques have recently started to merge with concrete. A faux finish can be applied to nearly any surface. With concrete, the two most popular surfaces include walls and floors. Carving and stamping with faux finish coloring techniques can make walls look like real stone, while finishes created by using stains, dyes and other coloring methods can create unique faux finished concrete rugs, and detailed patterns on floors.
Read more about how a unique, faux finished concrete rug was created to complete a backyard patio.
Established in 1999, The Concrete Network's purpose is to educate consumers, builders, and contractors on popular decorative techniques and applications. These include stamped concrete, stained concrete floors, concrete countertops, polished concrete, and much more. In July 2007 The Concrete Network Website had over 1.3 million visitors researching decorative concrete.
The site excels at connecting buyers with local contractors in their area through its Find-A-Contractor service. The service provides visitors with a list of decorative concrete contractors throughout the U.S. and Canada, and is fully searchable by 23 types of decorative concrete work and 202 regional areas throughout North America.
Article photos courtesy of Progressive Concrete Works Inc. Attached photos courtesy of Flex-C-Ment.
###