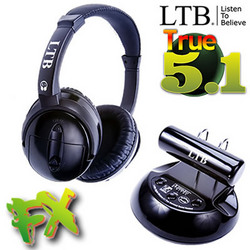 For those who have recently purchased a new HDTV system or new digital DVD player, the thought about how to take advantage of the Hi-Definition sound coming out of the new equipment probably came up. Good sound systems can be very costly and difficult to setup. You may not have a dedicated home theater space or may not wish to listen at the same volume as your movie partner
Teterboro, NJ (PRWEB) October 17, 2007
LTB Audio systems, Inc. is about to begin shipping their newest addition to True 5.1 Surround Sound wireless headphones.
The LTB Q-Home-FX system will have listeners sitting on the edge of thier seat and on occasion, turning to look behind them. Imagine the surround sound effect a home theater sound system can deliver, now imagine this system is compacted into a wireless headphone system.
Q-Home-FX uses 6 patented speaker chamber ton deliver superior directional audio effects from movies Hi-Def TV and game consoles. The advanced digital wireless technology provides a strong radio frequency connection that avoids interference from Wifi, Bluetooth and cordless telephones. Put them on then move as far as 90 feet from the transmitter without distortion or static and virtually connect unlimited headsets to the transmitter to provide audio for a whole auditorium.
"For those who have recently purchased a new HDTV system or new digital DVD player, the thought about how to take advantage of the Hi-Definition sound coming out of the new equipment probably came up. Good sound systems can be very costly and difficult to setup. You may not have a dedicated home theater space or may not wish to listen at the same volume as your movie partner," said Jon Miller, VP of Sales for LTB Audio Systems. "The Q-Home-FX system is designed to be your whole house wireless headphone. It can accept audio input from digital as well as stereo sources. It can be used with all console gaming systems and even comes with an Xbox Live microphone."
As with all of LTB's multi-channel headphone systems, be assured long term use of their system will be safe because of their patented Safebass® technology. By limiting Bass frequencies below 100db, Safebass® allows a user to listen longer and not risk impairments to thier hearing. LTB is the first manufacturer to come to market with a true 5.1 wireless system while other manufacturers have offered virtual 5.1 emulation or Dolby virtual headphone technology for several years, yet no one has created a true 5.1 wireless system that can recreate the true 5.1 effect including center channels and subwoofer as found in strategically placed speaker systems. Only LTB has made such technology available in a reliable, comfortable and cost effective product.
LTB will release the new Q-Home-FX wireless headphone system this November, they can be pre-ordered today directly from LTB at shopltb.com They will be available from a variety of retailers and on-line vendors such as: Amazon.com, Buy.com Radioshack.com, staples.com, techdepot.com, qvc.com, hsn.com and more Go to
http://www.ltbaudio.com/wheretobuy.html for a complete list.
About LTB Audio Systems
LTB, which stands for Listen To Believe, represents a product line focused on providing leading edge audio and multimedia headphones designed to meet the optimal demands of the latest Digital Media in Games, and Movies as well as music and Hi Def Audio. LTB controls various key technology patents that have made them an upcoming leading manufacturer of true surround sound technology products. For more information visit LTB at http://www.ltbaudio.com.
###