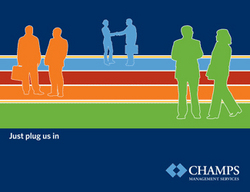 Our work for our healthcare clients just keeps getting better and better
Cleveland, OH (PRWEB) October 17, 2007
designRoom Creative's design work for the healthcare industry has been honored with the Healthcare Advertising Award, a Silver Aster Award, and two ADDY awards. These honors join a growing list of awards for the Cleveland medical marketing firm.
"Our work for our healthcare clients just keeps getting better and better," says Kelly Farrell, dRC's owner and president. She credits clients including STERIS Corporation, Cardinal Health, and the many hospitals they have worked with for giving them the knowledge and experience to provide effective, award-winning results.
The prestigious 24th Annual Healthcare Advertising Awards, sponsored by Healthcare Marketing Report, are bestowed not just for being creative and clever, but for being truly effective within the healthcare marketing arena. designRoom Creative was awarded for an ER television commercial for South Pointe Hospital. Over 4,300 entries competed for the Healthcare Advertising Awards for 2007. Criteria for judging include creativity, quality, message effectiveness, consumer appeal, graphic design and overall impact.
The Aster Awards is a national medical marketing award program allowing healthcare organizations and advertising agencies to compete against similarly sized agencies from across the country. Again, South Pointe Hospital was the lucky client, garnering a Silver Award for a dRC-created print ad series.
designRoom Creatives's two ADDY awards were granted for their work for STERIS Corporation and The Center for Health Affairs CHAMPS Management Services. The firm received three other 2007 ADDYs for their creative work with other organizations.
Farrell appreciates being honored by peers, but is more proud of her creative team's focus on medical marketing strategies that work for their clients. The design firm prides itself on creative campaigns that communicate their clients' value to others.
About designRoom Creative:
In downtown Cleveland for over fifteen years, designRoom Creative specializes in design and creative communication for the medical market and healthcare industry. Specializations include business-to-business communication and creative campaigns that help build business.
For more information contact Kelly Farrell at (216) 241-2020 x24. To view designRoom Creative's award-winning work, visit http://www.designroom.com.
###