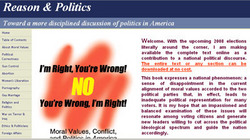 I'm Right, You're Wrong! NO You're Wrong, I'm Right! Moral Values, Conflict, and Politics in America.
(PRWEB) October 17, 2007 -
ReasonandPolitics.com announces the publication of "I'm Right, You're Wrong! NO You're Wrong, I'm Right! Moral Values, Conflict, and Politics in America." Written by Ricardo Planas, Ph.D, Political Science and International Relations from George Washington University, the book examines major 2008 campaign issues relying on critical thinking, ethics and moral values as a frame for a more balanced and disciplined political discourse.
The book explores 2008 campaign issues that are important to many Americans, including "culture war" topics such as abortion, gun control, feminism, gay marriage and religion and politics. What makes this book different from others out there is that it broadens the category of "moral values" beyond typical "culture war" issues and regards items such as the Iraq War and the War on Terror, political correctness, Darfur, global warming, illegal immigration, nuclear proliferation, and the negative style of political debating as "moral" issues that voters need to take into account.
In the book, Planas asserts that, as politics become ever more polarized, many voters are experiencing a major predicament: one party representing a portion of one's ethics and moral values, the other representing another portion, and too much being sacrificed and left out, leading to voter apathy and "half-votes." "It is my hope," says the author, "that a critical examination of these issues will resonate among voting citizens and generate new political leaders willing to cut across the ideological spectrum and guide the nation accordingly."
Planas suggests that the high percentage of the eligible voting population that fails to vote in presidential and congressional elections--between forty and forty-five percent--indicates serious disenchantment and mistrust toward the current political environment, political parties, and politicians themselves. "The American people are demanding a less polarizing style of discourse and a more exemplary behavior from our politicians," says the author. "The process in this book suggests a different approach: refocusing discussion of moral values around one of democracy's most basic principles: a deep sense of respect toward the dignity of all human beings and human life in all of its manifestations."
"Becoming more informed about these issues is important for citizens who wish to gain an increased understanding of the role of values in American politics," adds the author.
The book is available for free download at ReasonandPolitics.com. For readers wishing to own a hard copy, it is also available for purchase from major retailers including Amazon, Barnes & Noble and Books-a-Million.
About ReasonandPolitics.com:
ReasonandPolitics.com is the website home of author Ricardo Planas' new book, "I'm Right, You're Wrong! NO You're Wrong, I'm Right! Moral Values, Conflict, and Politics in America." The book is available on the site for chapter-by-chapter free download, in hopes of adding to the country's political discourse and moving towards creating a more disciplined discussion of politics in America.
###