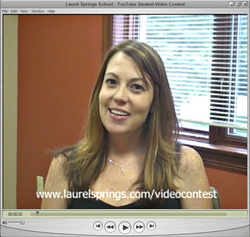 We expect to see some amazing videos that capture the brilliance of homeschoolers and dispel some of the myths around homeschooling.
Ojai, CA (PRWEB) October 17, 2007
Laurel Springs School, the leader in personalized distance learning education for K-12 students, sponsors the first YouTube video contest for homeschoolers. Laurel Springs School asks homeschool students aged 5-18 to answer the question, "What's Cool about HomeSchool?" through creative and entertaining videos. This YouTube contest gives homeschoolers everywhere the opportunity to tell their unique story and show people why homeschooling is a creative, exciting, and realistic alternative to traditional education.
"'Why Homeschool is Cool' is an open door for a dialogue between an extremely diverse population of international homeschoolers. At Laurel Springs School our focus has always been on the unique talents and interests of each of our students," said Marilyn Mosley Gordanier, president and founder of Laurel Springs School. "We expect to see some amazing videos that capture the brilliance of homeschoolers and dispel some of the myths around homeschooling."
About the Laurel Springs "Why Homeschool is Cool" YouTube video contest:

Homeschoolers may submit their 60-second videos on YouTube now through December 3, 2007.
YouTube viewers will rate the videos and the favorites will rise to the top in the ratings.
The entry with the most votes on December 3, 2007 at 11:59 pm Pacific Time will be named the official winner of the contest.
Laurel Springs School will reward the top rated video with a grand prize of $1000. The grand prize is open to all qualified entrants aged 5-18.
There will be a first prize of $250 and a second prize of $100 for each of three age groups categories: Ages 5-9, 10-13, 14-18.
The contest is open to any K-12 homeschooled student living in any country.
All video entries must be in English (no sub-titles).
Visit the Video Contest page (laurelsprings.com/videocontest) for more information and Official Rules.
About Laurel Springs School
Laurel Springs School, an accredited private school, delivers personalized K-12 distance-learning programs with a commitment to academic and creative excellence. Established in 1991, Laurel Springs School is the leader in distance learning education for kindergarten through high school. Each Laurel Springs student receives personalized, one-to-one instruction. With a student population of more than 5,000 - comprised of students from all fifty states and twenty-five countries - Laurel Springs makes use of web-based communication tools, a standards-based curriculum, and personalized instruction to offer students a top-notch home education experience, no matter where they live.
###