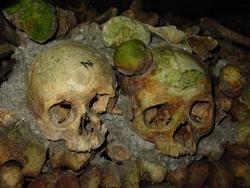 These suggestions offer travelers diverse ways of celebrating the day, from funny and bizarre to downright spooky.
Los Angeles, Calif. (PRWEB) October 18, 2007
http://www.VirtualTourist.com the popular travel research and social-networking site, today released its members' and editors' top picks for Halloween-related places and events. "These suggestions offer travelers diverse ways of celebrating the day, from funny and bizarre to downright spooky."
Bats, Bones and Buses: 10 Great Ways to Celebrate Halloween
1) Cape Fear, North Carolina- Clearly the town's founders weren't thinking in terms of PR when they were coming up with a name. It's a shame because this stunning sea-side town is a real charmer, complete with museums, clean beaches, and friendly residents.
2) The Catacombs (Les Catacombes); Paris, France -When the cemeteries of Paris started getting over-crowded, this underground storage facility was created to house the bones of the deceased. While not exactly uplifting, this popular tourist attraction is not to be missed; but don't get any ideas--you will be checked for stolen bones upon leaving.
3) Salem, Massachusetts -The beauty of this scenic town belies its infamous history. The Salem Witch Museum and the House of the Seven Gables (from which the classic Nathaniel Hawthorne novel takes its name) are just two of the many fascinating attractions in this historic area.
4) Witch Market; La Paz, Bolivia - A wonderland for the very superstitious, this unusual market is a one-stop shop for powders, animal parts, and statues that will bring your family luck and prosperity. Picture-taking is frowned upon, but bargaining is welcome.
5) Congress Avenue Bridge; Austin, Texas - Little did the architects of the Congress Avenue Bridge know that their creation would be home to thousands of bats! So much so that it has become a major tourist attraction. Be sure to catch them soon before they head south for the winter.
6) GhostBus; Dublin, Ireland - For a better understanding of Dubliners past, be sure to take a spin on the GhostBus. Part theatre, part history lesson, this very popular tourist attraction will have you laughing and learning at the same time.
7) Halloween Parade; New York City, New York - Even in a city where anything goes, this annual, highly-anticipated Halloween parade is a stand-out experience. Some participants start planning the morning of November 1st and even manage to astound hard-to-impress New Yorkers.
8) Goblin Valley State Park; Utah- Like something out of a science-fiction movie, the formations at Goblin Valley State Park have to be seen to be believed. Emerging from the earth in almost comical shapes, these little rock creatures look almost sculpted.
9) Pumpkin Festival, Keene, New Hampshire- What Florida is to oranges, this place is to pumpkins. Every year the residents of this quiet New England town host a pumpkin festival that includes seed-spitting contests, fireworks, and an attempt at breaking the world record for lit jack-o-lanterns.
10) Ghost Month; Singapore - Held the seventh month of the Lunar New Year, this ancient tradition honors those from the other side with everything from food offerings to money burning. Included in these customs are theatrical performances and operas, making it a great time to be there.
About VirtualTourist.com
VirtualTourist.com is one of the largest online travel communities in the world and a premier resource for travelers seeking an insider perspective on travel information, from Las Vegas hotels to New York City restaurants. At http://www.virtualtourist.com real people share real advice on places they've traveled as well as their hometowns; they research and plan trips, and they interact with other avid travelers via travel forums and email; over six million travelers use the site monthly. VirtualTourist boasts more than 1.5 million travel reviews and 3 million photos on more than 25,000 destinations worldwide. Unbiased, user-generated content on Hotels, Attractions, Local Customs, Tourist Traps and much more is posted entirely by VirtualTourist's more than 930,000 registered members from over 220 countries and territories, and the site's Trip Planner feature allows users to create custom print-and-go travel guides. Among VirtualTourist's awards and accolades: 'Sites that Changed Our World,' The Guardian; 'Favorite Website,' Newsweek; '35 Best Travel Sites,' Travel + Leisure.
###