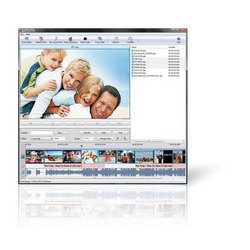 It was a natural step for our Video development team to take when reviewing the ideas for their next project
Canberra, Australia (PRWEB) October 18, 2007
NCH Software, specialists in video, audio, and business software applications, announce the release of their latest video/image application PhotoStage Slideshow Creator.
"It was a natural step for our Video development team to take when reviewing the ideas for their next project," said Stephanie Lee, marketing manager for the Australian company. "It compliments a wide range of our existing applications such as the image converter, Pixillion, our video capture application, Debut and even some of our programs we consider to be in the realm of Audio, Express Burn Plus and WavePad Audio Editor. The great thing about PhotoStage is the ability to build a slideshow for portable devices without needing to know the file format and encoder settings for each type of device, like a PSP or iPod."
PhotoStage allows you to add photos and video and includes photo editing functionality as well as a range of transition and display effects, like fading, cross fading, zooming, rotation. It also features the ability to add a soundtrack and narrative as well as captions. You can then build the slideshow for the device of your choice, whether you simply save it to your hard drive to show on your PC, burn as a video DVD to play on your TV, save for a portable device like a PSP or Pocket PC (with the optimal format and resolution for each one already pre-selected), you can even build a slide show for Mac users and mobile cell phones.
"PhotoStage is another free video application in our range," said Stephanie. "We are very interested in constructive feedback from users and the best was to gather this is to allow them to play with the program without restriction."
NCH Software is a leader in business, audio and video technology. Since 1993 our software development team has released more than 40 Windows, Mac, Linux, Palm and Pocket PC applications which are now leaders in their classes and have been awarded for software excellence. We continue to develop new programs for a growing number of platforms and solutions. Visit us at http://www.nchsoftware.com.
###