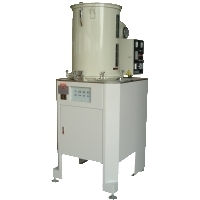 Due to our stringent quality control on machines, our customers hardly ever have technical problems in operation. They can easily change modules and do maintenance in light of our detailed troubleshooting with film demonstrations
(PRWEB) October 30, 2007
Heng Li Garlic processing machine was a highly recommended product in France, German, United Kingdom and Turkey. With traditional garlic peeling machine, garlic cloves were easily damaged by the water rubbing procedure. They also cause high water consumption, water pollution and a bad smell. To avoid these problems, Heng Li announces its advanced Garlic peeler machine, which keeps garlic intact and fresh through dry and peeling process with an air compressor device. Its automatic temperature controller and feeder apparatus enables the complete separation of the garlic meats from the outer skins. This machine effectively supports high volume manufacturing, saving electricity expense, while having a lower rate of break downs and producing at the rate of 60~170 KG/HR. Heng Li provides four models to meet customer requirements in terms of production capacity and delivery target.
As the first garlic processing machine manufacturer, Heng Li was established in 1970 and has occupied over ninety percent of market coverage in Taiwan. It not only provides an integrated garlic processing line, but also offers a food skewer machine to satisfy various market demands. Heng Li has marketed worldwide for sixteen years to food processing industries from South Asia, Europe and United States.
To carry out mass production, Heng Li 's factory has been extended to over a thousand square feet of space in Tainan. Every machine is arranged to pass stringent inspections, and the quality of machine parts and materials has also been effectively controlled in terms of a good connection with reliable component suppliers.
Making great efforts in machine development, Heng Li has received various patent rights on food processing machines, such as garlic peeler, garlic separating, garlic sorting, vegetable washing, eel skewer and food skewer machines with SGS and CE standards. Heng Li continues to obtain more international certifications to meet market demands.
As a member of the Taiwan Turnkey Project Association, Heng Li is regarded as a qualified provider. It offers a full range of products, from basic line including separating, sorting and peeling implements, a mashed garlic making items such as chapping, filling, and antisepticizing treatment equipments, to finished garlic powder production. All components and machine models are fully supplied depending on customers' need.
Heng Lin's finest machine has a stainless steel built-in and durable structural design. Their Garlic Separating Machine adapts to various size of garlic bulbs, as well as protecting garlic cloves from splitting by means of a self-invented adjustable scrolling device built to international food hygiene standards. In addition, there is a Garlic Sorting Machine to sort garlic pieces, stem and film by equipped fan and sieve before peeling.
Heng Li concerns for customers stretches to marinating stringent hygiene in the food production environment. Its advanced vacuum cleaner equipment collect the garlic cutis from peeling and reduce the pollution in factory.
Heng Li has also developed a skewer machine for various preparations of skewered food, such as Kabobs, Japanese style Kantodaki and Satay barbecue. In a long-standing cooperation with the Uni- President Food Company, the largest food company in Taiwan for Kantodaki production, the Heng Li High-Speed Food Skewer Machine shows its great value. It is capable of producing six skewers at one go and provides a range of skewer sizes, from twelve to eighteen centimeters. This beats Japanese machines, which offer a paltry four skewers at a time. More machine modules are supplied for different food applications and customized module design orders are certainly accepted.
"Due to our stringent quality control on machines, our customers hardly ever have technical problems in operation. They can easily change modules and do maintenance in light of our detailed troubleshooting with film demonstrations," sales manager Jimmy Chen said.
###