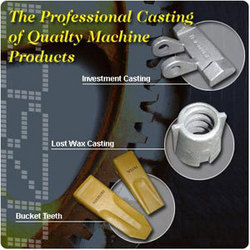 We understand time is a key element in business, therefore, Coszo makes prompt customer response, within twenty four hours when possible
(PRWEB) October 30, 2007
Established as a casting manufacturer for fifteen years, Coszo expanded its production lines and relocated their offices to their factory this September. The move increases efficiency in service for customers. Coszo products all satisfy worldwide original equipment manufacturer OEM applicants, most notably in Europe and America. It also has seen successes in South Asia and India market this year.
To reach annual production capacity of four thousand tons effectively, Coszo attaches great importance to factory management. With ISO9001-2000 and TS16949 certifications, its casting factory is well equipped with a medium frequency induction furnace, a coal furnace, a sand blaster machine, and a wax injection machine. These facilities are adequate support for Coszo's casting process, which includes sand casting, die casting and alloy casting, and gravity casting.
As a primary competitive advantage of Coszo, Coszo's machining center occupies three thousand square meters of floor space. It offers CNC machining, turning, milling, filling, plating, heat treatment, and finishing process, which is an integrated service for wide range OEM casting requirements.
Because Coszo can offer high quality assurance in production, their products include mining machinery parts, steel shaft, pipe fitting, stamping, forge, bucket teeth, vehicle components and structural accessories; all conform to ASTM, AISI, BS, DIN, JIS and JIS standards. In terms of a strong connection with domestic supply chains, Coszo assures its materials are strictly quality controlled, for example, carbon steel, stainless steel, alloy steel, heat resistant steel and ductile iron are fully guaranteed to be of top quality.
Coszo products will pass quality inspections. This procedure means their products are guaranteed to accurately match customized specifications. Quality checks are conducted at every step of the manufacturing procedure from beginning to end. Coszo also welcomes third parties for a final check before goods delivery. Coszo tests are conducted using equipment coordinated to include a measuring machine, spectrum analysis instrument, surface indicator, metallurgical analysis, tensile strength tester, hardness tester, impact test machine etc.
Due to strong teamwork with domestic professional mold-design companies, this collaboration shortens throughput time and enables Coszo to verify molding items to satisfy customers' need.
As casting market is undergoing rapid change, Coszo insists on technological development to meet the competition. Their qualified engineers improve equipment reliability and performance constantly. Coszo also participates in China Foundry Association and will keeps technological exchange with international partners in the near future.
"We understand time is a key element in business, therefore, Coszo makes prompt customer response, within twenty four hours when possible," Coszo General Manager, Mr. Andy Qiu said.
Coszo accepts orders of different quantities, and delivers goods within thirty days for casting products and fifteen days for machining on average. In addition they take good advantage of its location in Ningbo, the second biggest container port of China. Coszo definitely reduces the time and cost of shipment for customers.
Driven by broad market demands, Coszo continues to obtain more international certifications, such as CE and UL. It also takes part in international trade shows at the National Agriculture Exhibition Center, China Dongguan International Mould & Metalworking Exhibition (DMP) and China International Hardware Show 2007 in Shanghai. Coszo is planning to attend SEMA trade show in Las Vegas this year, as well as Hannover Messe 2008 to reach more oversea customers.
###